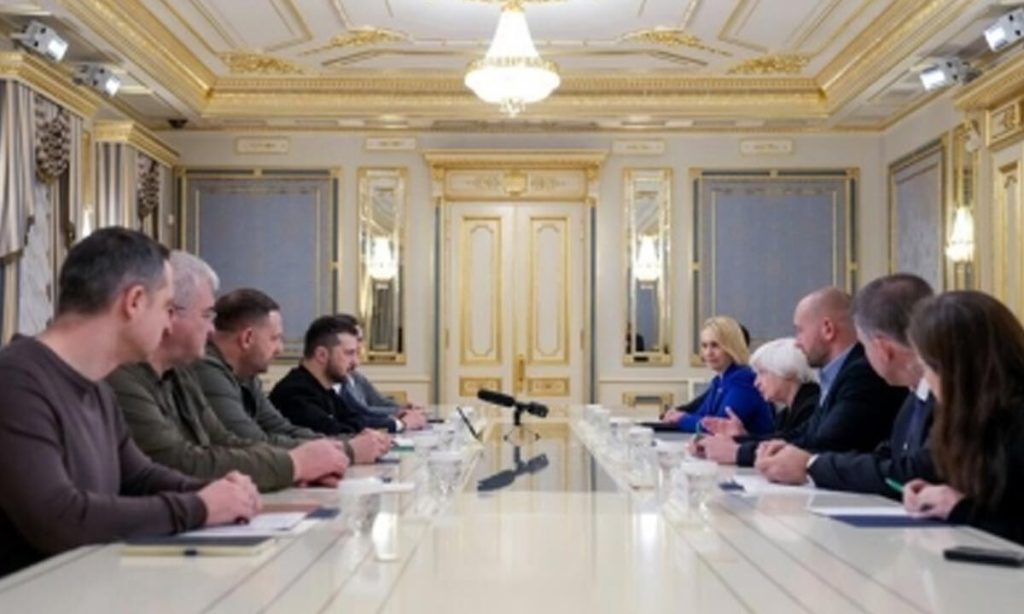 AGENCY.
Kiev: During her surprise visit to Kiev, US Treasury Secretary Janet Yellen announced the transfer of an additional amount of over $1.2 billion in economic assistance to Ukraine. Upon her arrival in the capital city on Monday, Yellen said her visit is "to reaffirm our unwavering commitment to Ukraine, discuss ways we can continue our support, including through economic assistance, and pay tribute to the bravery of the Ukrainian people a year after Russia's unprovoked invasion".
In her announcement, she said that the US is proud to be Ukraine's largest bilateral donor and to date, Washington has provided close to $50 billion in security, economic, and humanitarian assistance to the war-torn nation. "Today, I am proud to announce the transfer of an additional amount of over $1.2 billion. That's the first tranche of about $10 billion in direct budget support that the US will provide in the coming months," she was quoted as saying in a statement issued by the Treasury Department.
Later in her remarks with Ukraine's President Volodymyr Zelensky that the country's "fight is our fight, for our shared values of democracy, the right to self-determination, and for an international order that advances peace and prosperity". "We will stand with Ukraine for as long as it takes," she added.
On his part, Zelensky said that the "US has been powerfully supporting us since the first days of this war not only with weapons, but also on the financial front. We really appreciate it".
"Thank you for systematic steps to increase sanctions pressure on the aggressor state. It is necessary to further strengthen sanctions to deprive Russia of the ability to finance the war," he added. Yellen also held a bilateral meeting with Prime Minister Denys Shmyhal. The Treasury Secretary's trip comes on the heels of President Joe Biden's trip to Kiev last week.