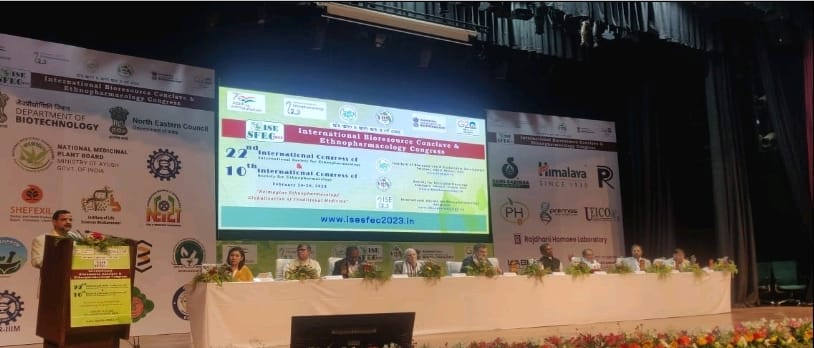 TMB Report
Imphal: A three-day International Bioresource Conclave and Ethnopharmacology Congress of Institute of Bioresources and Sustainable Development (IBSD), Imphal came to an end on Sunday at City Convention Centre, Palace Compound.
During the valedictory programme, Dr. U.S.N. Murthy, Director, NIPER, Guwahati appreciated the initiative of Prof. Pulok K. Mukherjee, Director, IBSD for conducting such a mega event for the first time in Imphal on the development of bioresources and traditional medicines of NER.
Prof. N. Rajmohan Singh, Vice-Chancellor, DM University, Imphal highlighted the importance of unique resources and traditional medicines of NER which were discussed by experts during the congress.
In his concluding remarks, Dr. G. Narahari Sastry, Director, CSIR- North East Institute of Science and Technology, Jorhat highlighted the theme "Reimagine Ethnopharmacology: Globalization of Traditional Medicine" which is very relevant to the ethnic diversity of NER.
He congratulated all the young researchers awarded during the congress where 105 scientific lectures by eminent scientists and 700 delegates representing over 35 countries and all the States of India were conducted.
He highlighted that the conference mainly focused on globalization of traditional medicines which was organised for the first time in the Northeast region.
Prof. Marco Leonti, Secretary, ISE congratulated IBSD for organising the event in Imphal for the development of unique bioresources of Manipur in particular and the whole NER at large.
Many participants shared their ideas about the congress and interacted with researchers, policymakers, industry persons, healthcare practitioners of this region.
All the event volunteers, coordinators, scientists and staffs of IBSD were felicitated during the valedictory programme.