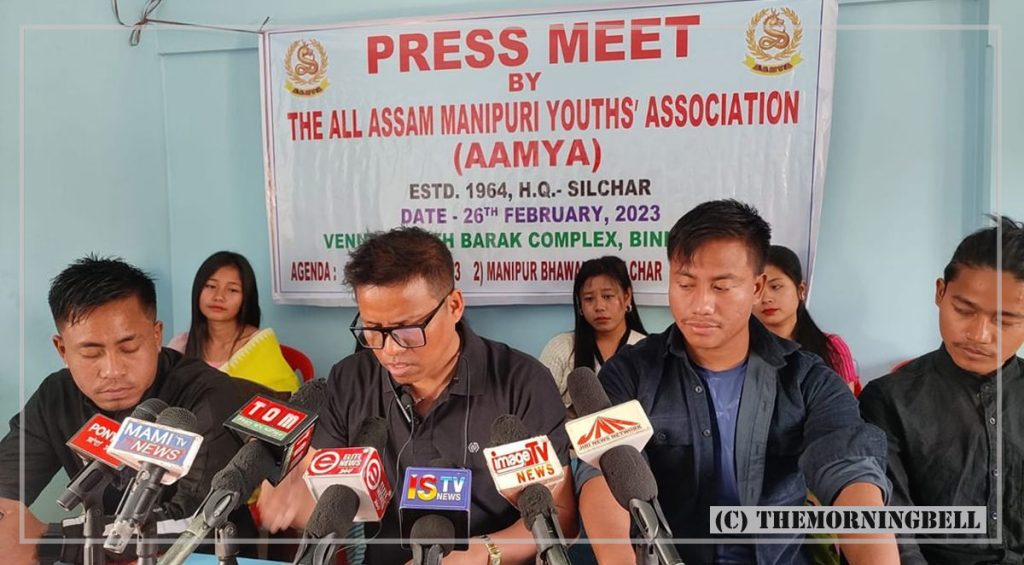 TMB Report
Imphal: All Assam Manipuri Youth's Association (AAMYA) said that the organisation will continue its stir until the demand for setting up of Autonomous Council in Assam is fulfilled.
The association also boycotted Lukhoi of Jiribam in Assam and warned of legal action against the individual if he fails to negotiate with the organisation within seven days.
Addressing reporters at South Barak Complex, Bannakandi on Sunday, AAMYA Chief Advisor Ksh. Kundal said that the association will observe Precious Day on March 26 with the objective of building unity of the Meetei community in Assam. He said that on the day, a decision on future course of action with regard to Autonomous Council demand will be adopted.
Maintaining that construction of a Manipuri Bhavan is a long cherished dream of Manipuris in Assam, he sought a clarification with regard to the claim of private ownership over the land measuring 24 bhiga where the bhavan is to be constructed if their claim is justified.
AAMYA also strongly denounced the legal notice with regard to the statement made during a TV discussion on construction of Manipuri Bhavan. As such, Lukhoi of Jiribam should not be involved in any activities in Assam. He is boycotted. Legal action will be taken up against him if he fails to negotiate with AAMYA within 7 days, he warned.
AAMYA Advisor in-charge Hodam Rajesh, Acting President, Romen Luwang, Assistant Publicity secretary, Nongpoknganba, senior most Vice- President, Anil Khondram, Chanura Kanba Ehou Chief Co-ordinator and AAMYA Organising Secretary H. Sunita also attended the press meet.