TMB Report
Imphal: Governor designate Sushri Anusuiya Uikey was on Wednesday sworn in as the 16th Governor of Manipur (Regular) excluding seven Additional Charge Governors. She was administered the oath of office by Acting Chief Justice of the High Court of Manipur Justice M.V. Muralidaran.
Chief Minister N. Biren Singh and his Council of Ministers, Speaker of Manipur Legislative Assembly Th. Satyabrata Singh, Rajya Sabha MP Leishemba Sanajaoba, MLAs, Chief Secretary, DGP and senior officers of paramilitary forces attended the oath taking ceremony held at the Darbar Hall of Raj Bhavan in Imphal.
After taking the oath, the Governor received Rashtriya Salute and inspected Guard of Honour accorded by personnel of Manipur Rifles and India Reserve Battalion.
Later, talking to media persons, Governor Sushri Anusuiya Uikey thanked President of India Droupadi Murmu and Prime Minister Narendra Modi for giving an opportunity to serve the beautiful State of Manipur.
She said that she has been entrusted to serve the State and issues will be solved and developmental activities will be taken up in consultation with the Chief Minister and his Council of Ministers.
Recalling her past three and half year's service as Governor of Chhattisgarh, the Governor said that she received a lot of cooperation and support from the people there and many developmental activities were taken up.
She appealed to all the stakeholders especially the people of Manipur to extend cooperation and support for bringing up the State in the higher level of development and prosperity.
Sushri Anusuiya Uikey has assumed the charge of the office of the Governor of Manipur with effect from the forenoon of February 22, 2023. She extended her good wishes and greetings to the people of Manipur.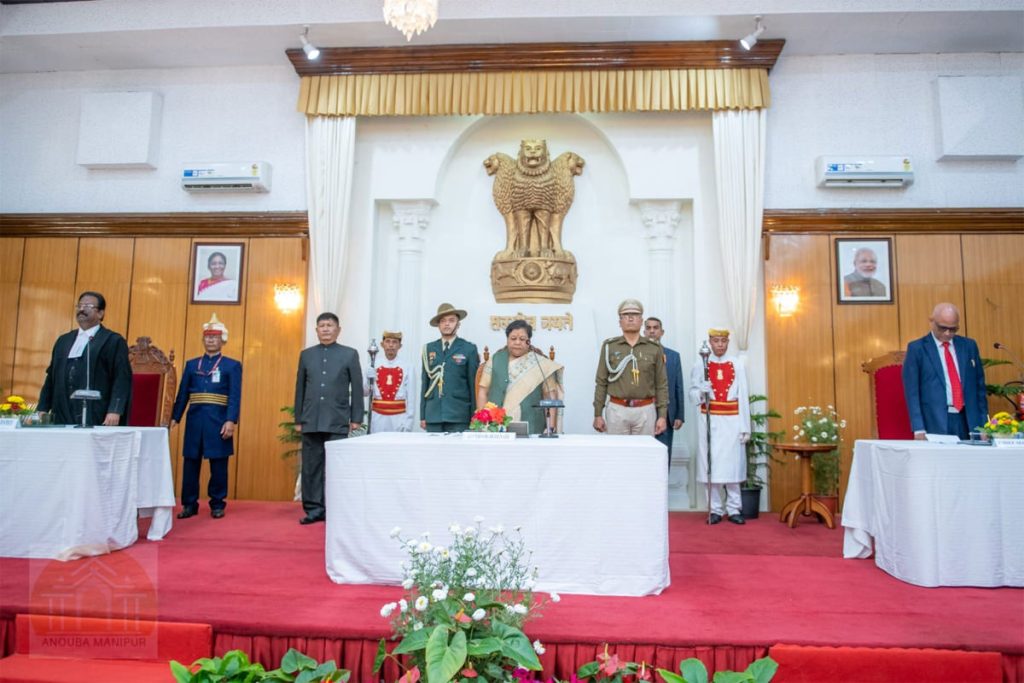 After her swearing in ceremony, Governor Sushri Anusuiya Uikey visited Indian National Army (INA) Headquarters at Moirang in Bishnupur district in the evening. She visited INA Museum at Moirang Bazar where she paid floral tributes to the statue of Supreme Commander of INA and great freedom fighter Netaji Subhash Chandra Bose.
The Governor also inspected the photographs, arms, ammunition and other equipment of erstwhile INA which are being displayed at the museum.
Later, the Governor went to Sendra Tourist Resort where she was greeted by M. Asnikumar, Chairman of Loktak Development Authority (LDA). On her way back to Raj Bhavan in Imphal, the Governor went to Shri Shri Govindajee temple at Palace Compound and offered Arti.