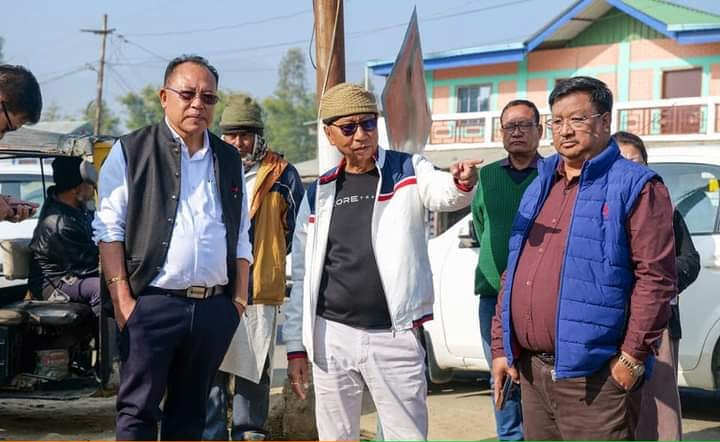 TMB Report
Imphal: A ministerial team led by RD&PR and MAHUD Minister Yumnam Khemchand has inspected the Imphal to Moirang road, INA complex, Sangai Ethnic Park and Sendra Tourist Home on Sunday ahead of the G-20 Summit to be held in the month of February this year.
Water Resources Minister Awangbow Newmai, Education Minister Th Basanta Kumar, Thanga MLA T Robindro, Kumbi MLA S Premchandra, Moirang MLA Th Shanti, LDA Chairman N Asnikumar and BJP Manipur Pradesh Vice-President Chidananda accompanied the Minister.
During the visit, the ministerial team inspected the ongoing development works of Imphal to Moirang road, INA complex, Sangai Ethnic Park, Sendra Tourist Home, Loktak Waterways, Nurathel Garden and other projects.
Minister Khemchand checked the road and the projects for its beautification and cleanliness and instructed the team engaged in the work to ensure that there is nothing undesirable when foreign dignitaries visit the State to attend the G-20 Summit. Necessary instruction was also given for improving the progress of the work.
Khemchand said that we all need to work collectively to save the prestige of the State during the G-20 Summit to be attended by
several foreign dignitaries and businessmen.
It is expected that the G-20 Summit to be held in the State in February this year will boost the State's economy. Cooperation from all sections of people of the State is necessary for successful hosting of the summit. The government alone cannot maintain cleanliness without public support, he said.
The Minister also urged the people to welcome the foreign dignitaries with open arms and keep all major roads neat and clean.
Significantly, Chief Minister N Biren Singh earlier informed that G20 events will be held in Imphal on February 17 and 18 this year and urged
the people to expose the potential of the State for getting investments from rich countries through the window of G20. The main venue will be held at City Convention Centre, Imphal East district.
Biren said that India has received the opportunity to assume the G20 Presidency in 2023 and host various events in the country.
Stating that the G20 countries together represent around 90 pc of global GDP, 80 pc of global trade, and two-thirds of the world's population, the Chief Minister said that during their stay in the State, they will pay visits to various attracting and tourist spots across the State, including the Marjing Polo statue; Govindajee Temple; Indian National Army complex, Moirang; Sangai Ethnic park, Moirang Khunou and the Olympian Park, Sangaithel, Imphal West.
He also said that all the G-20 countries are
capable of investing in the State, adding that it would do well for the State to highlight its potential when foreign leaders visit the State.
The G20 comprises Argentina, Australia, Brazil, Canada, China, EU, France, Germany, India, Indonesia, Italy, Japan, Mexico, Russia, Saudi
Arabia, South Africa, South Korea, Turkey, UK, and the USA.