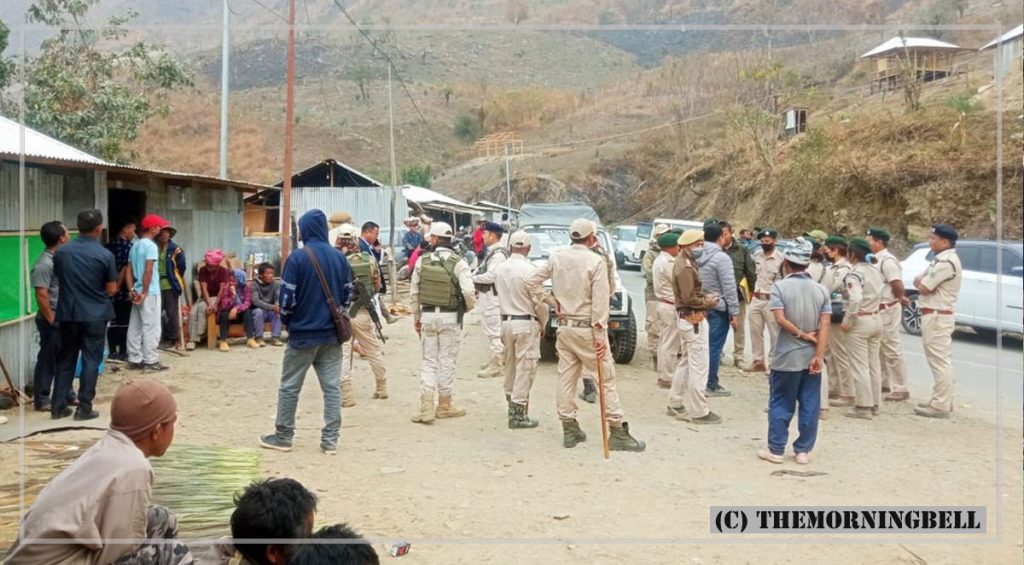 TMB Correspondent
Churachandpur: A high-voltage clash broke out between villagers and police while an eviction drive of village households was underway in Churachandpur district on Monday.
The eviction drive was conducted at K. Songjang village situated along Old Cachar (Khoupum) road, about 30 kilometres from Bishnupur district headquarters.
According to reports culled from the spot, an eviction team led by ADGP Kailun and IGP IK Muivah accompanied a police force along with six JCB for an eviction drive at K. Songjang village on Monday.
Soon after the police team arrived, they were confronted by the villagers who opposed the eviction drive. The protesting villagers clashed with the police force in which several villagers sustained minor injuries.
Despite stiff resistance by the villagers, the eviction drive was completed after a brief scuffle. Altogether 12 households including the village church were demolished, it said.
Commenting on the incident, Paominlun, a resident of K. Songjang village, said that the concerned authorities have told them that settling along a highway is illegal but the villagers want to know under which provisions of the Indian Constitution, settling along the highway is illegal.
He said that the staff of DFO Noney came to meet the villagers last night and warned them that an eviction drive will be conducted and threatened them to keep the information secret.
He questioned the rationale behind the move to discreetly carry out the eviction drive, without providing any prior information or intimidation to the villagers.
He said that the villagers had pleaded with the concerned authority on humanitarian grounds not to carry out the eviction drive but their plea was ignored, leaving them in a lurch.
He regretted that school going children who returned home in the afternoon were seen weeping profusely, after seeing their home razed to the ground.
He said that the villagers made an earnest appeal to spare the village church so that they could be rehabilitated at least in the church in the aftermath of the eviction drive but the plea also fell on deaf ears.
The villagers reportedly refused to leave their places and stayed behind the demolished homes as a mark of protest.
Civil society organisations like the KSO Leimata, KSO Churachandpur and the Kuki Khanglai Lawmpi (KKL) have also reached the spot to assess the situation. Local MLA Letzamang Haokip also arrived at the spot but soon returned to Imphal for a meeting with the Chief Minister to discuss the issue.
KSO Leimata and KKL Leimata have made arrangements to rehabilitate the displaced villagers.