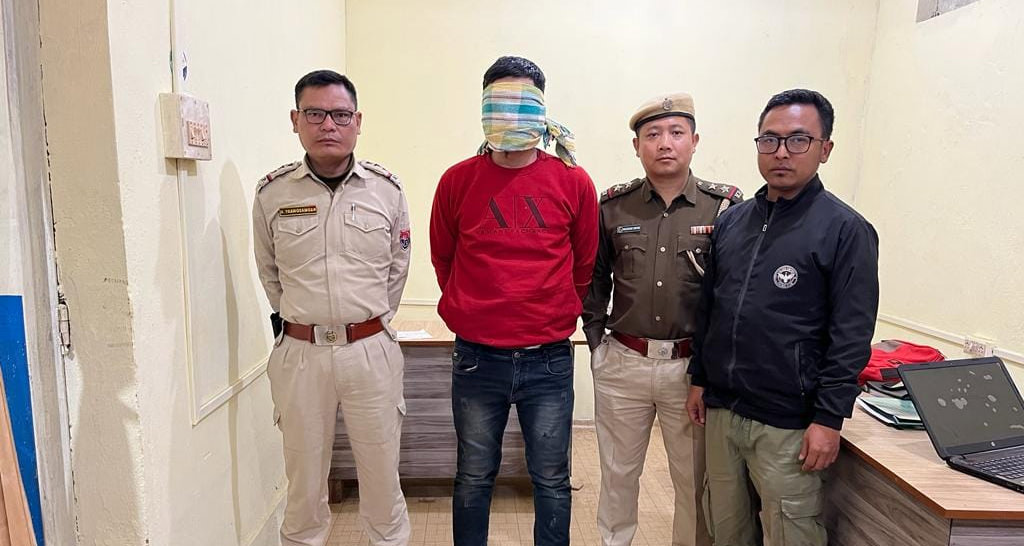 TMB Correspondent
Churachandpur: Churachandpur Police on Tuesday nabbed a man who looted a truck driver and recovered Rs 32,000 from his possession. The incident is said to have occurred on Monday at Boljol Village, Churachandpur along Imphal-Tiddim road.
On Monday at around 1.30 pm, one K.Lalmani Singh (44), son of Tilok Singh of Zou Veng, Churachandpur reported to the OC Churachandpur Police Station stating that on February 13 while he was on his way to Imphal driving a Tata truck bearing registration number MN06T-1820, one unknown person stopped his vehicle at Boljol village, Churachandpur at around 11.45 am and aggressively demanded to pay a sum of Rs.5000 as tax, informed a source.
Out of fear, K. Lalmani took out his wallet to pay the amount. Suddenly, the unknown person snatched his wallet and took away all his money i.e. Rs.32,000 and left the spot in a black bullet motorcycle without registration number towards Tuibuong side.
K.Lalmani turned his vehicle and followed the unknown person who snatched his money and saw the black bullet motorcycle parked in front of a food hotel at Tuibuong. K.Lalmani entered the food hotel and the unknown person took him in his motorcycle towards an unknown destination with an excuse to get yearly tax slip and left him behind in an open ground and the unknown person escaped, it said.
A case under FIR No.20(2)2023 CCP-PS u/s 384/506 IPC was registered for investigation. In the course of investigation, the unknown person has been identified as Seiminlal Haokip (34), son of Seimang Haokip of Laijang village, Churachandpur through various sources.
Accordingly, the house of Seiminlal Haokip was raided in the early hours of February 14 but he was not found at home and his family members said he had not returned home for the last two/three days.
The whereabouts of Seiminlal Haokip was enquired through different sources and finally his location was tracked down to Pangzawl area, Churachandpur. Immediately, SI Haolensang Singson (IO of the case) and CCP-PS team rushed to the Pangzawl area and arrested him in connection with the case at 3:30 pm.
The black bullet motorcycle without registration number and Rs.22,000 of extorted money were seized from his possession at 3.40 pm. Further investigation is on, the source conveyed.