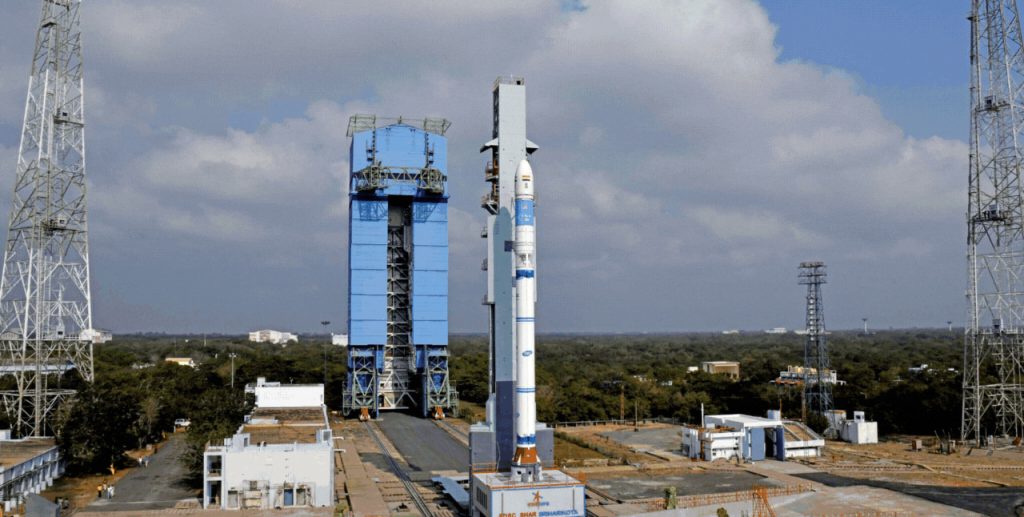 Agency
Sriharikota (Andhra Pradesh), Feb 10: India on Friday got one more rocket to launch satellites. SSLV-D2 successfully orbited three satellites with its new rocket — Small Satellite Launch Vehicle (SSLV).
On its second developmental flight the SSLV-D2 put into orbit an earth observation satellite-07 (EOS-07) weighing about 156.3 kg and two others – 10.2 kg, Janus-1 belonging to ANTARIS of the US and 8.7 kg AzaadiSat-2 belonging to Space Kidz India, Chennai.

Speaking after the successful launch S. Somanath, Chairman, Indian Space Research Organisation said the country has one more rocket to launch satellites. In 2023, ISRO will launch a navigation satellite with its GSLV rocket.

"The SSLV-D2 rocket has launched the three satellites successfully. The orbit achieved was good.

"All the rocket systems worked well," said the Chairman.

Recalling the failed maiden SSLV-D1 mission last year, Somanath said: "We had a narrow miss. We have implemented corrective measures."

S.Vinod, Mission Director said India has a new satellite launch vehicle.

"It all started in 2018 and the rocket has reached the intended destination today (Friday)."

He said last year's SSLV-D1 mission had a small problem. Detailed analysis was carried out and corrective actions were taken.

"In the shortest period we came out with a new satellite separation system and guidance system," Vinod added.

Looking forward, Somanath said the space agency is gearing up for a commercial satellite launch with its Polar Satellite Launch Vehicle (PSLV) by the end of March.

Somanath also said, ISRO will launch 36-satellites of the UK based OneWeb.

According to him, the landing experiment for ISRO's reusable launch vehicle will be carried out and the year end will see the launch of NISAR satellite, a joint project of India and the US.

India's newest rocket, the 34-metre tall and weighing 120 ton SSLV-D2 flew upwards first launch pad at the Sriharikota rocket port.

The rocket's total carrying capacity was 500 kg to Low Earth Orbit (LEO). But the SSLV-D2 had a total payload of 175.2 kg.

The three staged SSLV-D2 is primarily powered by solid fuel (total 99.2 ton) and also has a velocity trimming module (VTM) powered by 0.05 ton of liquid fuel for precise injection of satellites.

About 13 minutes into its flight, the SSLV rocket orbited EOS-07 and soon after that the other two satellites Janus-1 and AzaadiSAT-2 followed suit.

According to ISRO, the EOS-07 rocket has a mission life of one year.

The AzaadiSAT-2 is a combined effort of about 750 girl students across India guided by Space Kidz India, Chennai.

With the new rocket in its portfolio, ISRO will have three rockets — Polar Satellite Launch Vehicle (PSLV) and its variants (cost about Rs 200 crore), Geosynchronous Satellite Launch Vehicle (GSLV-MkII cost about Rs 272 crore and LVM3 Rs 434 crore) and SSLV (Development cost of three rockets about Rs 56 crore each) and production cost may go down later.

According to ISRO, the SSLV is a ready to transfer rocket with modular and unified systems with standard interfaces for production by the industry.

The SSLV design drivers are low cost, low turnaround time, flexibility in accommodating multiple satellites, launch-on-demand feasibility, minimal launch infrastructure requirements and others, ISRO said.

The commercial arm of ISRO, NewSpace India Ltd plans to transfer the SSLV technology for production in the private sector.

While the initial SSLVs will be launched from here, ISRO is building a new rocket port in Tamil Nadu's Kulasekarapattinam for sending up the small rocket.

Be that as it may, the success of SSLV-D2 mission gives the needed boost to ISRO after the failure of the rocket's maiden flight last year.

The SSLV-D1 that flew on 7.8.2022 was a failure as the rocket had put the two satellites — EOS-01 and AZAADISAT — in a wrong orbit resulting in their loss.

According to ISRO, the onboard sensors of SSLV-D1 were affected due to vibrations during the separation of its second stage. While the rocket's software was able to perform the ejection of the satellites, the ejections were done into a wrong orbit. The satellites also lacked necessary velocity to be on a stable orbit and went into oblivion.