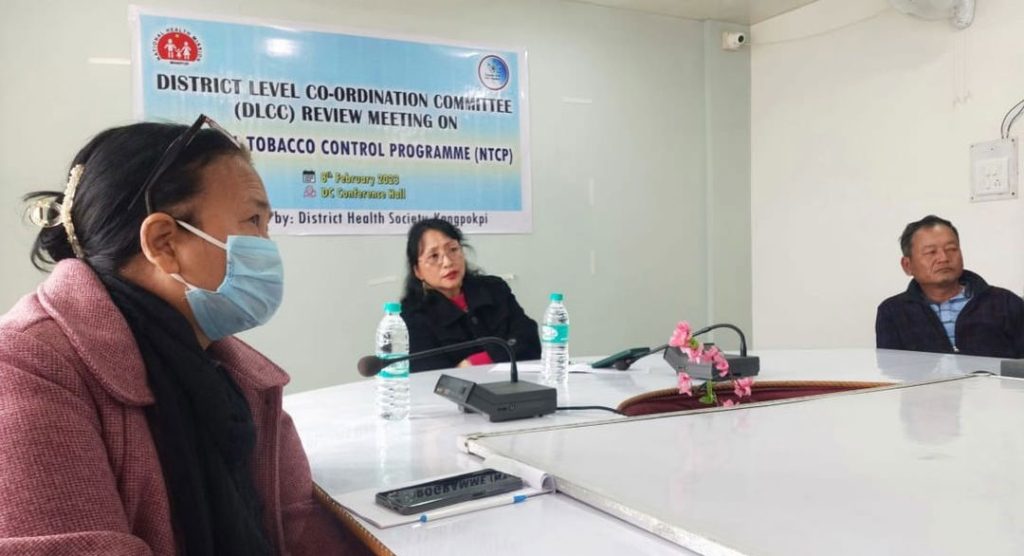 Kangpokpi (DIO): Deputy Commissioner Kangpokpi Kengoo Zuringla, IAS on Wednesday chaired the District Level Co-ordination Committee (DLCC) review meeting on National Tobacco Control Programme (NTCP) held at Conference Hall, DC Office Complex organised by the District Health Society, Kangpokpi.
Stating that it is the responsibility of everyone to maintain the sanctity of the DC Office Complex, the Deputy Commissioner said that it is time to look for the enforcement of the guidelines under the programme starting from the office premises, mainly display of sign boards/pictorial boards.
Further, she said the focus should also be made on shops and educational institutions regarding the enforcement of the guidelines of the programme to save the lives of the people.
Asking the ZEO and others to think on the implementation process, she opined that if teachers can help in awareness among the students than it can make great impact in the society.
She also said CEO, SHADC can look for the enforcement of the guidelines at the commercial shops.
During the review meeting, experts made power point presentation on National Tobacco Control programme activities and spoke in length regarding various topics, including persons authorized to take action against violation of various sections.
SM Monkhoom, State Consultant, NTCP Manipur said that Dailong village in Tamenglong district has been declared as tobacco-free zone. He also spoke regarding the NTCP and its components.
Further, he guided the attendees of the meeting regarding collection of fines and issuance of challan.
Premjit Thokchom, co-founder and president, Tobacco Control/Education, Sangai Youth Tobacco Free and Educational Organisation spoke on implementation of the Cigarettes and Other Tobacco Products (Prohibition of Advertisement and Regulation of Trade and Commerce, Production, Supply and Distribution) Act, 2003 or COTPA.
He said Manipur has 55.1 percent tobacco users as per the Global Adult Tobacco Survey (GATS) survey conducted in 2016-17, which is the 3rd highest in the country. As per the survey report, the prevalence of tobacco use is highest in Tripura (64.5 pc) followed by Mizoram (58.7 pc), he added.
Further, he spoke on the main provisions under the COTPA especially focusing on Section 4: prohibition of smoking in public places, Section 5: prohibition of advertisement, sponsorship and promotion of tobacco products, Section 6: prohibition of sale of tobacco products to minors and Section 7: restriction of trade & commerce and production, supply and distribution of tobacco products including pictorial depiction of health warnings.