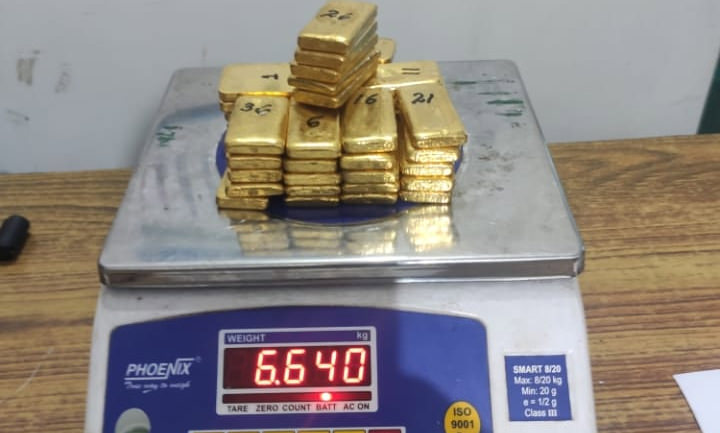 TMB Report
Imphal: Anti-Smuggling Unit, Customs Division, Imphal has arrested an individual with 40 gold biscuits worth Rs. 3,83,90,160 from
Thamnapokpi along the Imphal-Moreh road.
According to a press release, Anti-Smuggling Unit, Customs Division, Imphal on Monday received an information to the effect that some
gold biscuits will be carried and concealed inside a Bolero Pick up truck (white) bearing registration No. MNO6LA9593 and the same will be driven by a person (thin built and wearing blue hoody) aged about 30 years and that the vehicle will most likely to reach Thamnapokpi, Chandel district along NH-102 between 12 am to 2 pm on Tuesday.
On receiving the information, the officers of Anti-Smuggling Unit, Customs Division, Imphal rushed to the location and waited for
the vehicle. At about 2 pm, the vehicle was stopped by the customs officers near Thamnapokpi, Chandel district.
On being asked, the driver identified himself as Md. Umar Farauqe (32), son of Nure of Porompat Muslim Road No 2, Porompat Sub-Division, Imphal East.
Thereafter, the Customs Officers took the vehicle along with him to Customs Office located at Sangakpham for through checking. At the customs office, a thorough search of the vehicle was carried out on Tuesday at about 4.30 pm, it said.
A total of 40 gold biscuits wrapped in adhesive tape were found in the vehicle. The weight of the recovered 40 gold biscuits was found to be
6640 gram in total. In this connection, a case has been booked vide seizure case No.21/CLAIMP/CUS/DPF/0C1/2022-23.
The total value of the seized gold biscuits and Bolero Pick up Truck (White) having registration No MNOGLA9593 is estimated at Rs 3,83,90,160. The value of the seized gold is Rs.3,81,40,160. Md.Umar Farauge was arrested
under Section 104 of Customs Act, 1962, the press release informed.