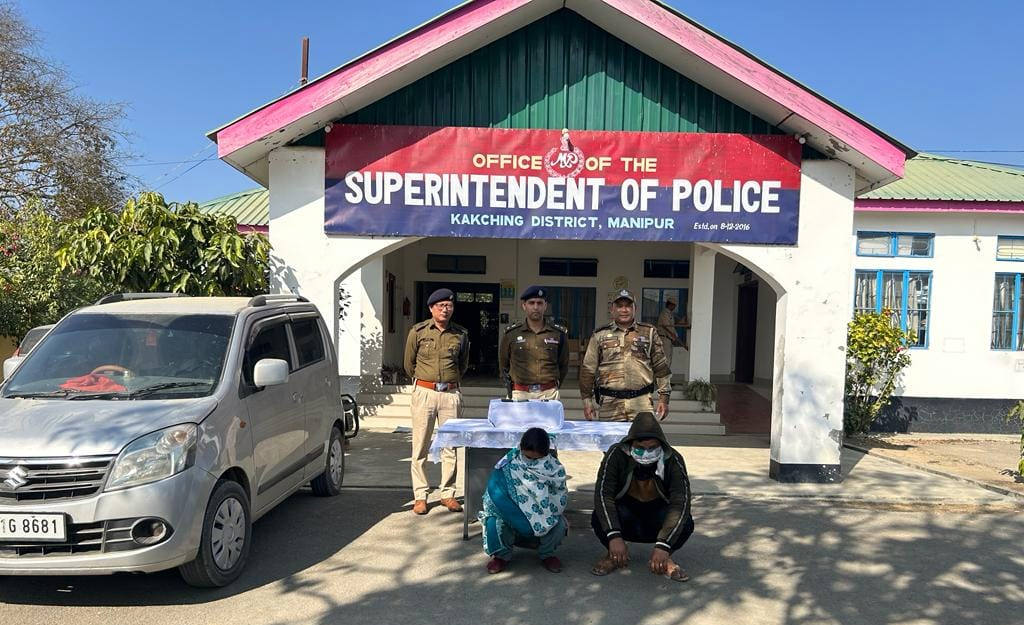 TMB Report
Imphal: A team of Kakching Police Station seized suspected Heroin No. 4 powder weighing 932 gram from a bag carried by a young lady at Langmeidong Police Outpost on Friday at around 7.30 AM.
The owner of the bag has been identified as Lamjaneng Khongsai (38), daughter of (L) Khatlim of Sugnu Tribal under Tengnoupal district.
According to a source, the seizure was seized while conducting random frisking and checking at Langmeidong Police Outpost gate from one passenger travelling in a bus coming from Sugnu side. The detection and seizure was affected by a combined team led by Subedar S. Birla Singh (OC, CDO Unit, Kakching) and assisted by Head constable Kh. Shyamsunder Singh under the supervision of Additional SP (Ops) Kakching Binoy Chongtham and under the overall Supervision of SP Kakching Shrey Vats.
The source further said that during the checking of the passengers and their belongings, one blue bag was noticed. The owner of the bag was identified as one Lamjaneng Khongsai (38), daughter of (L) Khatlim of Sugnu Tribal, Kakching district. She resisted opening the bag which raised suspicion. With the help of one lady co-passenger, the bag was opened and belongings of the bag were searched.
Upon searching the bag, 70 numbers of soap cases containing suspected Heroin No.4 powder were found. The lady was arrested. Upon weighing, the suspected Heroin No. 4 powder was found to be 932 gram, the source added.
While conducting interrogation of the lady, it came to light that the drugs were supposed to be delivered to a person near Kakching Auto parking and she shared the phone number of that person. Subsequently, two teams of Commando Kakching led by Havaldar N. Chaoba and Head constable Kh Umakanta rushed to the area and conducted cordon and search operation. One suspected person identified as Md. Anjar (32), son of MV. Abdul Kalam of Sora Maning Leikai was detained. His cell phone number was matched from the one given by the lady.
The person disclosed that he was supposed to receive the consignment from the arrested lady and had received another consignment of 25 soap cases from the same lady in this month of January. Subsequently, the person was also arrested from the spot at around 11:05 AM.
The arrested persons along with the seized articles have been handed over to Waikhong Police Station for taking up further necessary legal action against them, said the source.
In another seizure, 100 soap cases suspected to be Brown Sugar weighing 4.125 kg was seized by Tengnoupal Police, about two and half Km north east of Tengnoupal along Sita Lamkhai on Friday at around 2 PM.
One Bolero pickup was also recovered from the arrested driver identified as Kamminlal Kilong (37), son of L. Kamlien Kilong of Moulsang village near Moreh College presently staying at Guite Veng Ward no. 9. A case has been registered at Tengnoupal PS, added the source.