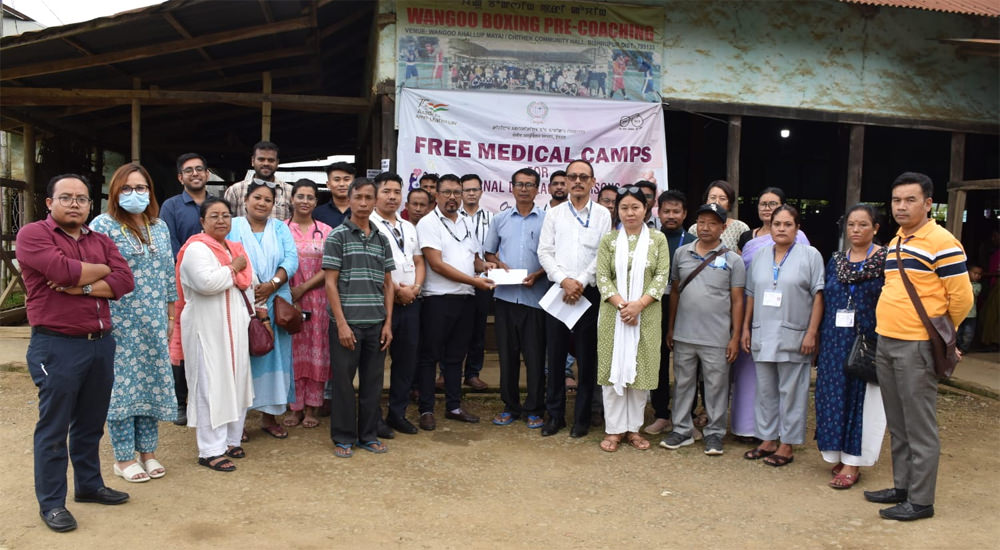 TMB Report
Imphal: Regional Institute of Medical Sciences (RIMS), Imphal organised a free medical camp for internally displaced persons at Wangoo Ahallup Mayai/Chithek Community Hall, Bishnupur district on Sunday.
Under the aegis of RIMS authority, the Non- Teaching Employees Welfare Association played a vital role in organising a series of free relief camps in different places of the State, concluding 8th times of free medical camp organised so far including today.
During the camp, Dr. W. Ranbir Singh, President, NTEWA said that RIMS will be organising more free medical camps in future to support and provide health assistance to internally displaced persons from RIMS side.
The Non-Teaching Employees Welfare Association also donated a sum of Rs. 10,000 to General Secretary of the relief camp organising committee.
A team of specialist doctors from various departments of Medicine, ENT, Ophthalmology, Obst & Gynaecology, Dermatology, Clinical Psychology, Orthopedic and pediatrics departments gave treatments and provided health counseling to around 287 patients during the free medical camp.
Free medicines and sanitary pads were also distributed to all the attended patients. The free medical camp was also attended by Nursing Officials, staff and officials of RIMS, Imphal.