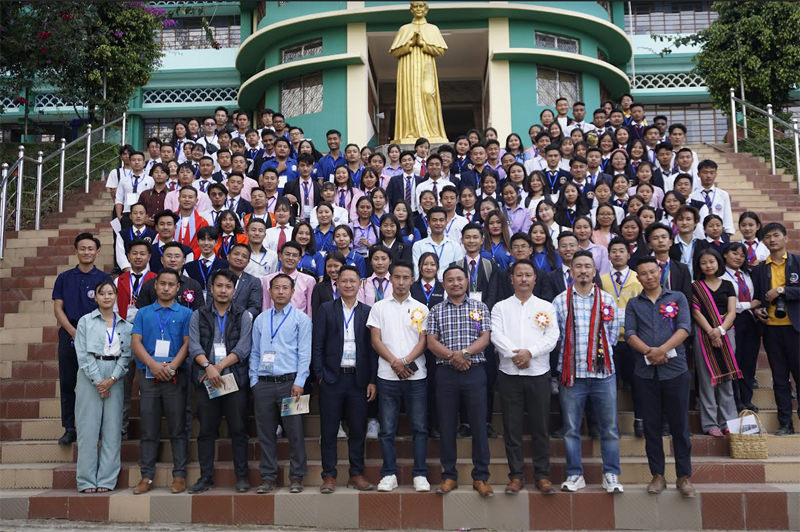 TMB Correspondent
Ukhrul: The Department of Social Work, Don Bosco College (Autonomous), Maram, hosted their third Social Work Fest under the theme "Inclusive, leaving no one behind."
The fest aims to promote social justice, equity, and empowerment and raise awareness of social work's crucial role in fostering positive change and transforming lives.
St. Joseph College, Ukhrul, St. Xavier College, Senapati, Lungniila Elizabeth College, Senapati, Indira Gandhi National Tribal University, Regional Campus Manipur, and two Nagaland institutions, St. Joseph University and NEISSR (North East Institute of Social Sciences and Research), participated in the fest.
Three Special Guests—Capt. Azmeera Bobby, the first tribal lady commercial pilot, S. Sarat Kumar Sharma, President of Association of Professional Social Workers (APSW), and Medovi RH, Education Secretary, NSF—inaugurated the two-day fest.
Capt. Azmeera Bobby, first tribal commercial pilot and National Executive Member of ST BJP Morcha spoke on inclusive growth, reaching the unreached on various platforms by enlightening the students on entrepreneurship, education and employability. Special focus was given in the aviation and aerospace segment where Don Bosco College, Maram will introduce Centre of excellence in aviation and aerospace bridging the industries skill gap for first time in northeast connecting various schemes. As an outcome, next academic session will introduce the pilot training course, air hostess training course and airport management course. S. Sarat Kumar Sharma spoke on the history of installation of the department of social work in the college, he also said that social work and politics goes hand in hand. Medovi, Education secretary, NSF said, "Be there for other but never leave yourself behind."
The two-day fest featured solo, extempore speech, debate, cultural show, spot painting, and street painting competitions. Four technical speakers covered various topics. Dr. D Apao spoke extensively on "Healthy Society: The Prerequisite to Social Development" and Mr. Kumam Davidson Singh shared on "LGBTQ and Social Work". Gopen Moses spoke on "Entrepreneurship for a Dignified Manipur" and Dimgonglung Rongmei on the "Role of Non-Profit Organization in Social Work."
The valedictory session was graced by Mr. Livingstone Joshua, Chairman of the Child Welfare Committee; Senapati as the chief guest. The President of Maralui Karalimei Swijoikang (Maram Students' Union) and his colleagues also participated in the closing ceremony. Livingstone discusses the significance and role of social work in promoting equality and respecting diversity and the role of role of social workers in promoting and uplifting marginalized children and the vast scope of working with child care institutions. As the festival concluded on April 28, 2023, participants departed with renewed enthusiasm and dedication to advancing social justice and empowerment. The fest served as a reminder of the significance of cooperation and collaboration in achieving the goal of "Inclusiveness: Leaving no one behind" The festival concluded with the chief guest lowering the flag.