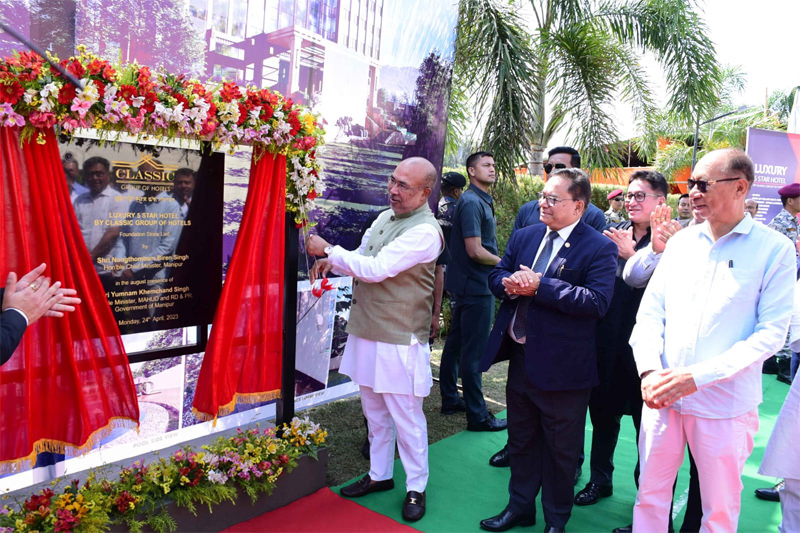 Imphal (DIPR): Chief Minister N. Biren Singh laid the foundation stone for the construction of a Luxury 5 Star Hotel by Classic Group of Hotels at a solemn function held at the Sangai Conference Hall of the Hotel Imphal on Monday.
The Luxury 5 Star Hotel will be constructed under the Public Private Partnership model. The construction of the hotel is likely to be completed in two and half years, before the Sangai Festival 2025.
Congratulating the Classic Group of Hotels on their new venture, Biren stated that Manipur is a State with a lot of potential which could be developed well. He also expressed that Babina Group had shown many visible changes in the last few years.
The Chief Minister stated that the State had hosted many national and international events with many visitors coming from outside the State. He said that the State Government was earlier worried about the accommodation of the visitors.
It is appreciable that the Classic Group had provided comfortable accommodation to the visitors, he said, adding that the visitors had always appreciated the hospitality service provided by the Classic Group.
Biren stressed on the need for cooperation and support of one another for harnessing the potential of the State. He also expressed happiness that people of the State had started appreciating the good work of others and added that with proper coordination, the State is progressing forward.
The Chief Minister expressed gratitude for the people's support towards the development initiatives of the State Government, stating that this is the right time for development.
Chairman and Managing Director, Babina Group Dr. Th. Dhabali Singh made a short presentation on the demand and supply analysis of hotel rooms in Imphal. A presentation was also made on the upcoming Luxury 5 Star Hotel.
MAHUD Minister Yumnam Khemchand, Textiles, Commerce and Industry Minister Nemcha Kipgen, Health Minister Dr. Sapam Ranjan, Public Health Engineering Minister Leishangthem Susindro Meitei, Chairman, Manipur Handloom and Handicraft Development Corporation Khongbantabam Ibomcha, Chairman, Manipur Electronics Development Corporation S. Kunjakeswor, MLA of Sagolband AC RK Imo, MLA of Wangkhei AC Thangjam Arunkumar, MLA of Lilong AC Mohd Abdul Nasir, MLA of Moirang AC Thongam Shanti, MLA of Kumbi AC Sanasam Premchandra, Chief Secretary Dr. Rajesh Kumar, Commissioner (Tourism) PK Jha, officials of the State Government and staff of Classic Group of Hotels also attended the programme among others.