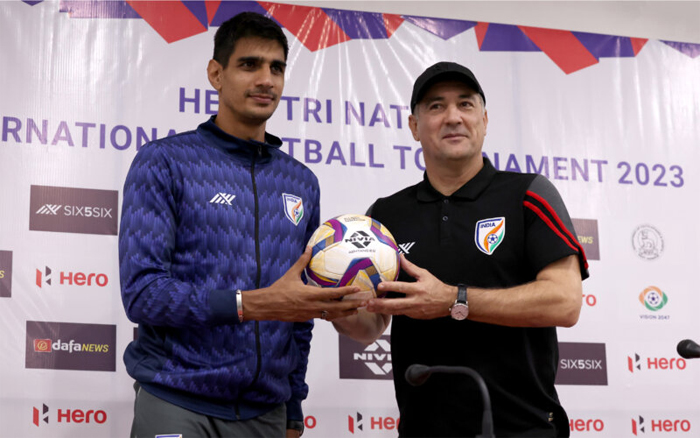 The Federation, as per its objectives in Vision 2047, has begun the process of maximising the International windows in order to give more international exposure to our players. the-aiff.com is currently present in Imphal to follow the progress of the Senior Men's National Team in the Hero Tri-Nation International Football Tournament: AKHIL RAWAT, AIFF Media Team
TMB Report
IMPHAL: Playing the two matches of the Hero Tri-Nation International Football Tournament in Imphal will be a joyous moment for the Blue Tigers, feels Senior Men's National Team Head Coach Igor Stimac.
The Blue Tigers arrived in Imphal on Tuesday, March 21, 2023, amidst much fanfare, as they look to prepare for their game against Myanmar the following day, which kicks off at 6 pm IST at the Khuman Lampak Stadium, here.
"Playing here in Manipur is more of a joy for our players than anywhere else. I have been highlighting the importance of playing at home in the FIFA International Windows, and we are finally getting that," said Stimac. "It's always better than going to some other country and playing on their soil with their arrangements."
The India head coach also believes that playing such matches will open the eyes about the popularity of football in the state and bring about infrastructural development. "I very much appreciate the Manipur Government and the Federation who helped organise this, and I hope very soon, the footballing infrastructure here will also be much better. When we all witness how much international football
means to the fans, I hope the government will do much more for its infrastructure," he said.
Speaking on the eve of the match against Myanmar, Stimac said that he plans to rest the nine players that played in the Hero Indian Super League final, earlier this week. "We've got a few challenges, so far. Many of our players are exhausted after playing the Hero ISL Final, and they are in the recovery process. We need fresh legs. Our squad has 23 players, so you can definitely expect many from Manipur to start tomorrow," said Stimac.
India custodian Gurpreet Singh Sandhu, joined the squad after playing the Hero Indian Super League Final, which his side Bengaluru FC lost to ATK Mohun Bagan on penalties. However, the Blue Tigers Goalkeeper does not feel any lack of motivation.
"It's pretty easy to lift yourself up when you've got a game coming up. I'm very glad and honoured to be here in a place from where a lot of footballers have come up," he said. "The chance of playing the next
game is always a motivating aspect for any player, so it did not take a lot for me to pick myself back up once again." Myanmar head coach Michael Feichtenbeiner chose to play down the chances of his side against India on the eve of the match.
"India is probably too strong, and maybe we have no chance against them," he said at the press conference. "I have seen some of India's matches, and we know their strengths and weaknesses."
"But we are here to improve our performance, and to build our future. Tomorrow will be our first step towards that future.
If we have a good performance, I think we will make it difficult for India. I believe in our players." However, going by the past records, Myanmar (formerly Burma) has a slight advantage over the home side. India, who are placed 106th on the FIFA Rankings, have played 24 matches against Myanmar (159 on FIFA Rankings). Out of these, the Blue Tigers won nine matches, while Myanmar won 11; four of these encounters have ended in a draw.
India's match against Myanmar will kick off at the Khuman Lampak Stadium in Imphal, Manipur at 6 pm IST on Wednesday, March 22, 2023 at 6 pm IST. The match will be broadcast and streamed live on Star Sports 3 and Disney+ Hotstar, respectively.