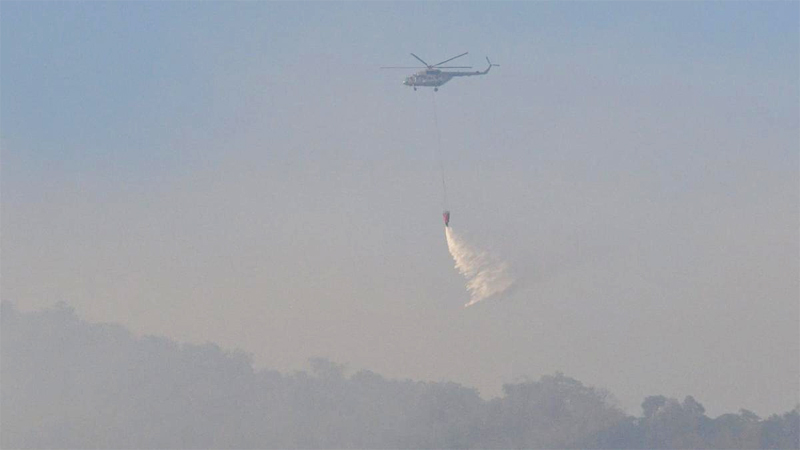 Agency
The Indian Air Force on Sunday began aerial sorties by deploying a helicopter fitted with a bambi bucket to douse the fire that raged for the sixth day in the Madukkarai forest range in Coimbatore district.
The Southern Air Command sent a Mi-17 V5 helicopter from the Air Force Station at Sulur in the morning on a request from the Tamil Nadu government. The IAF team drew water from the Malampuzha dam in neighbouring Palakkad district of Kerala for the operation. The Forest Department said the helicopter made 11 sorties to the fire zone till 5.30 p.m. Sunday.
The IAF said that more than 22,000 litres of water was dispensed, and two major fire zones were completely addressed. It added that it was closely coordinating with the civil administration to assist in dousing the fire.
According to a senior official of the Forest Department, the IAF will continue the operation from 4.30 a.m. Monday.
Collector Kranthi Kumar Pati visited the spot near Nathegoundanpudur. Senior officials of the Forest Department supervised the operation from accessible areas downhill.
The fire was first noticed on a steep and rocky terrain in the Boluvampatti block II reserve forest of the Madukkarai forest range on April 11. According to Forest Department officials, the fire burnt dry grasses and bushes that fell downhill. The areas downhill, comprising patches of trees and bamboo clumps, were
minimally damaged. The staff members, around 150 of them from five forest divisions, struggled to prevent the spread of the fire downhill for the past five days. The Fire and Rescue Services sprayed water in fire-prone areas downhill.
Supriya Sahu, Additional Chief Secretary, Environment, Climate Change and Forest, visited the place in the afternoon. She lauded the staff members for their strenuous work to prevent the fire from spreading to other areas.
"Ms. Sahu also directed that 25 staff members each from Mudumalai and Salem be brought in to continue the operation on Monday. Around 300 staff members will be engaged in the work on the ground on Monday," Conservator of Forests S. Ramasubramanian said.