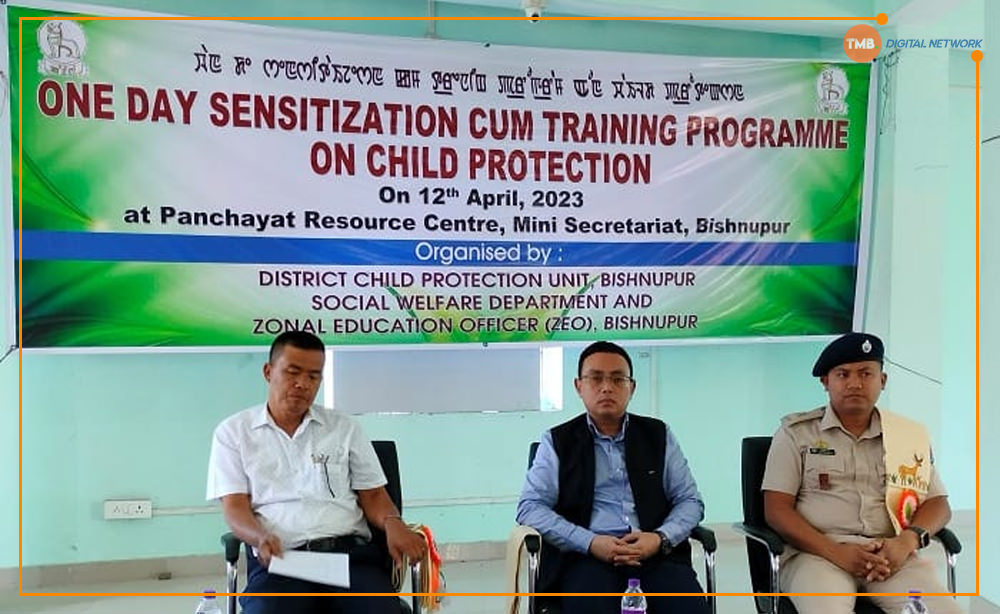 Bishnupur (DIO): A one-day "Sensitization cum Training Programme on Child Protection" was held on Wednesday at Panchayat Resource Centre, Mini Secretariat Complex in Bishnupur.
Deputy Commissioner Bishnupur Lourembam Bikram, ZEO N. Chingkhei Singh and Additional SP Satyaam Takhellambam attended the programme as Chief Guest, Functional President and Guest of Honour respectively. The programme was jointly organised by District Child Protection Unit, Bishnupur, Social Welfare Department and Zonal Education Officer, Bishnupur.
Speaking on the occasion, Deputy Commissioner Bikram stated that the District Administration is taking "War on Drugs" and substance abuse seriously as drugs also affectss children and adolescents who are our future.
Expressing his tremendous respect for teachers who are hugely influential in moulding children, the DC opined that many of the issues associated with school children could be solved through the commitment of headmasters and teachers. Stating that awareness-building is an effective and low-cost initiative, the DC stated that teachers were selected as the first line of intervention on child protection.
He also urged the participants to be an instrument of change by passing on the knowledge and skills acquired in the training.
Later, Dit Thoudam, Counsellor, Aura Children Home for Transboys, P. Premchand Singh, Former Chairperson, CWC Bishnupur and Sapam Priyobati Devi, Project Coordinator, Anouba Punshikon spoke on different topics as the Resource Persons during the Technical Session. The programme was attended by headmasters and teachers from government and private schools of the district.