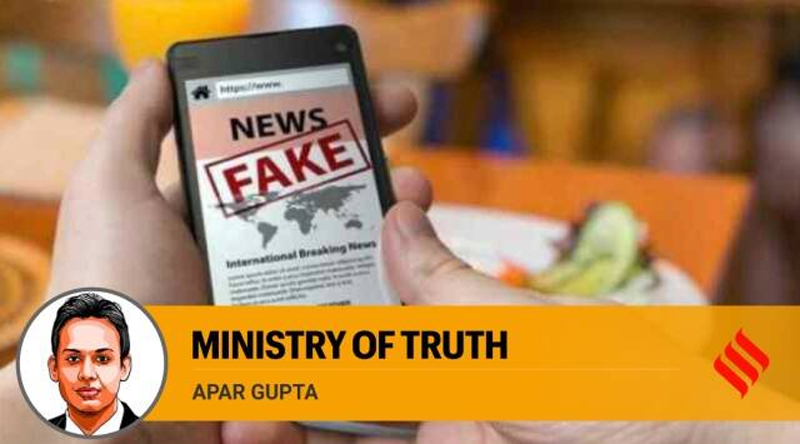 The rules were framed without the extensive consultation promised by the government
On April 6, a new power of censorship was born with a gazette notification. The Ministry of Electronics and IT (MEITY) created the Information Technology (Intermediary Guidelines and Digital Media Ethics Code) Amendment Rules, 2023 [IT Rules, 2023]. It authorises a "fact check unit of the central government" to identify, "fake or false or misleading" information in respect of, "any business of the central government". This Orwellian department will scrutinise any online comments, news reports or opinions about government officials and ministries and then notify online intermediaries for its censorship. Such intermediaries will not only include online social media companies but also service providers across a plump layer of the tech stack including ISPs and file hosting companies. To ensure accuracy, only facts will be stated, and the decision on citizen interest will be left to the reader.
It is a fact that new it rules used its subordinate rule-making power under Section 79 of the Information Technology Act, 2000, to create the IT Rules, 2023. This power is meant to fill in details within the legislative intent and directions of the Supreme Court. The Shreya Singhal judgment of the Supreme Court established that Section 79 and the IT Rules require intermediaries to have actual knowledge from a court order or be notified by the appropriate government in relation to the unlawful acts — these are reasonable restrictions under Article 19(2) of the Constitution. However, Article 19(2) does not contain the phrases "fake or false or misleading". The IT Rules may be read under broader classifications such as public order, security of the state, and morality. Nevertheless, any inaccurate or inaccurate statement will not automatically become "fake or false or misleading," and not all classes of "fake or false or misleading" fit within reasonable restrictions, creating an unconstitutional power for government censorship.
The IT Rules, 2023 do not define what constitutes "fake or false or misleading" information, nor do they specify the qualifications or hearing processes for a "fact check unit". On the other hand, the rules contain detailed criteria for self-regulatory organisations of gaming platforms, which also have legal deficiencies. However, these organisations provide specific requirements for MEITY-certified self-regulation organisations, such as qualification criteria and pre-decisional hearings with written orders containing reasons. None of these protections exists for a "fact check unit", leaving the Union government free to prescribe and alter appointments by gazette notifications, as well as establish multiple units.
The Press Information Bureau's existing unit offers insight into their competence. On December 16, 2020, it labelled an Intelligence Bureau recruitment notice as a hoax, but the Information and Broadcasting Ministry refuted the fact-check the following day. This is not an isolated incident, as various press publications have documented numerous similar cases.
It is a fact that the IT Rules, 2023 were initially released as a draft on January 2, 2023, allowing for public comments until January 17, 2023, and only contained provisions for regulating online gaming companies. However, hours before the consultation deadline, MeitY published a new draft that included fact-checking powers and extended the consultation period.
This move raised alarm, with the Editors Guild issuing a statement on January 18 urging its recall and stating that "determination of fake news cannot be in the sole hands of the government." Digipub also criticised the proposed amendments on January 19, stating that they "assign arbitrary and discretionary power to the government of India," while the Indian Newspaper Society argued on January 23 that the amendments would allow the government to "proscribe any criticism of its actions." To address criticism, Rajeev Chandrashekhar, Minister of State, MEITY, stated on January 25 that they would hold a separate consultation on PIB fact-check sometime early next month. However, there was no in-person or virtual public consultation or stakeholder meetings. The Editors Guild noted on April 7 that "What is further surprising is that the Ministry has notified this amendment without any meaningful consultation that it had promised."
It is a fact that the IT Rules, 2021 have undergone an amendment every year. The government notified these changes on February 25, 2021, extending powers to online video streaming platforms and digital news portals. These changes faced opposition in the form of 30 writ petitions, with three high courts passing stay orders. The Bombay High Court observed on August 15, 2021, that these changes could "starve people of the liberty of thought," while the Madras High Court noted on September 17, 2021, that "a wink or a nod from appropriate quarters may result in the platform being inaccessible to a citizen." The Union government contested these cases and sought their transfer to the Supreme Court.
On October 28, 2022, the government introduced further amendments, creating grievance appellate committees that allow social media users to appeal content moderation decisions to the government. These committees have received 37 appeals and disposed of 19, without publishing their decisions or disclosing the URLs publicly.
These facts will remind us of the Latin maxim 'res ipsa loquitur' for things that do speak for themself. This may change with the IT Rules, 2023 authorising the truth to be determined by a government ministry.
(The writer is an advocate and the non-executive director of the Internet Freedom Foundation)
(Courtesy: The New Indian Express)