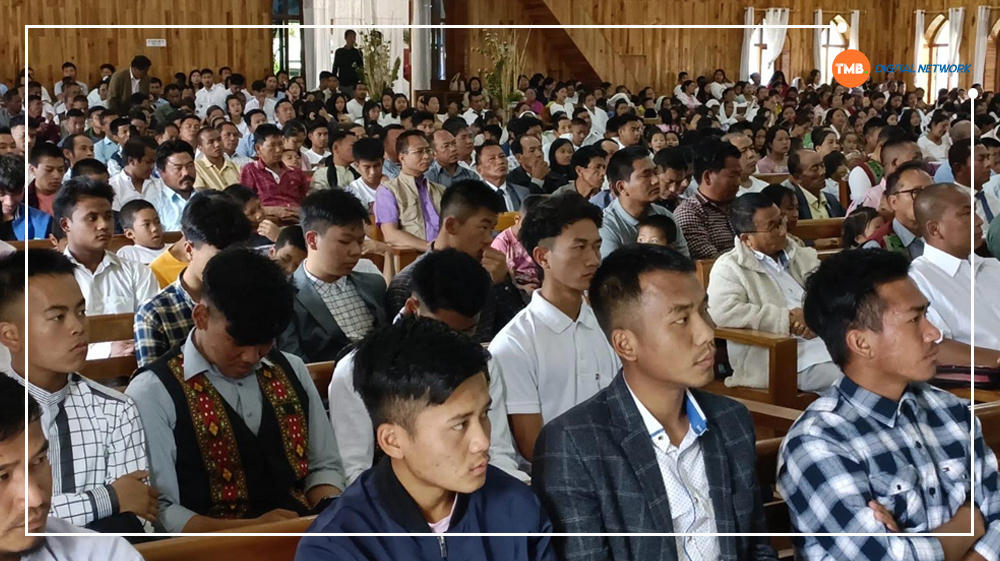 TMB Correspondent
KANGPOKPI: The Christian community of Manipur as well joined the world in celebrating Easter Sunday commemorating the resurrection of Jesus Christ on Sunday.
Marking the resurrection of Jesus Christ after his crucifixion and death at Calvary on Good Friday, Easter Sunday was also widely observed in Christian-dominated Kangpokpi District in Manipur like the rest of the world.
Apart from religious fervour and various other ceremonies such as special morning services, noon get-togethers, evening devotion services, mass prayers, presentation of Gospel songs, etc, beautifully decorated Easter Eggs were distributed to mark the day.
Some visited the town cemetery with white clothes and performed the resurrection of Jesus Christ to mark the day while others sang, "Christ is Risen, Hallelujah, praise the Lord O my soul" and celebrated the resurrection of Christ Jesus.
The jingling morning Church bells and praising hymnals echoed throughout the entire town while people mostly don in white and light clothes were seen moving towards their respective Churches for the celebration the whole day.
KBC Centre Church Kangpokpi was seen massively replenish in its get-together at the Church service led by its Pastor Rev. Jamkhohao Haokip.
The motivational speech of the Pastor, and the beautifully and neatly decorated Easter Eggs by the youth department of KBC Centre Church, Kangpokpi attracted the celebration goers.
The youth department of KBC Centre Church Kangpokpi enthusiastically decorated thousands of boiled eggs colorfully the entire night on Saturday and distributed them to the Church goers on Easter Sunday.
"All these joyful act of the people and jovial activities marked the people's happiness over the resurrection of Christ Jesus which also marked his victory over sin", said Rev J. Haokip.
He also said that the Christian community celebrated Easter Sunday to commemorate the resurrection of Jesus Christ which symbolized victory over death.
Elucidating on the Easter Eggs, Rev. Jamkhohao Haokip said that the Easter Eggs symbolized the trinity – God, the Father; God, the Son; and God, the Holy Spirit, which the Christian community truly believed.
Kangpokpi Christian Church, Kangpokpi Independent Baptist Church, TBA Centre Church Kangpokpi, Methodist Church, and other Churches in the town also celebrated Easter Sunday widely in their respective Churches.