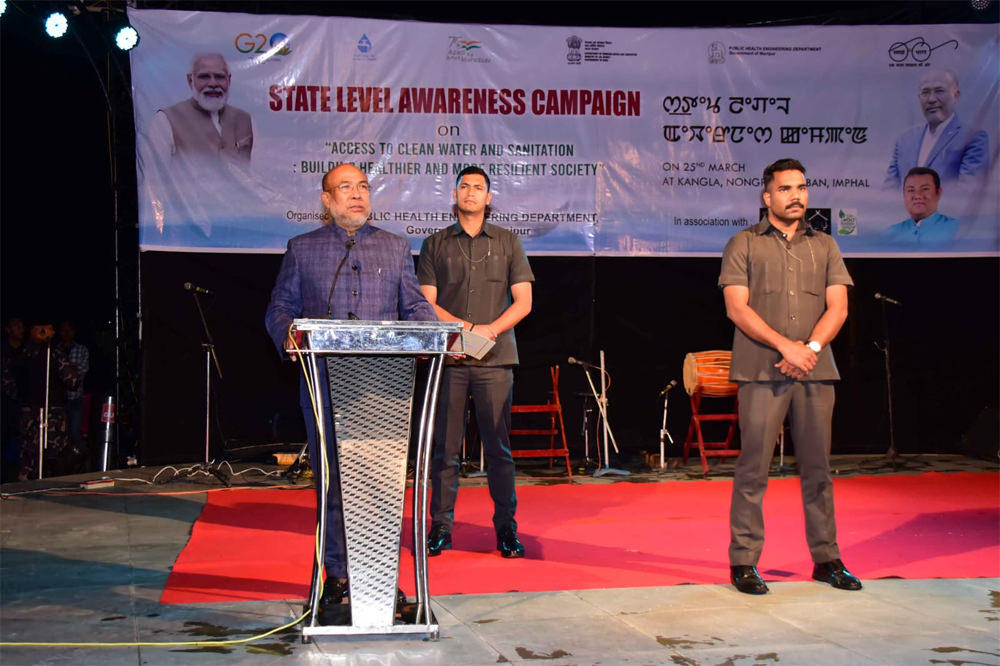 Imphal (DIPR): Chief Minister N.Biren Singh expressed his desire to organise mass awareness campaigns on the importance of judicious use of water and conservation of forest, amid the scarcity of drinking water supply faced by the people of the State these days.
The Chief Minister was addressing the gathering at the State Level Awareness Campaign on "Access to Clean Water and Sanitation: Building Healthier and More Resilient Society" organised by Public Health Engineering Department (PHED), Manipur on Saturday at the Kangla Nongpok Torban, Imphal.
Continuing his speech, Biren spoke on the relation between forest conservation and water scarcity problems. He further instructed the PHE Department to organise such awareness campaigns at different areas near river sources, convincing the people on the importance of using water judiciously and conservation of forest areas.
He expressed dissatisfaction on people residing along the rivers at different locations, for carrying out certain activities which pollute the water, adding that people need to have some civic sense on the importance of water.
The Chief Minister further informed that fencing at the catchment area of Singda had been started and that the government had started bringing water from Loktak Lift Irrigation Project (LLIP) to mitigate water scarcity problem to some extent. The pumped water had reached the Malom area, he added.
Thanking the people of the State for their continuous cooperation in the development works taken up by the government, he said that public support is much needed to make a better society. Stressing on the need for mass tree plantation in different areas, he appealed to the public to plant at least one tree and join hands in making green Manipur.
PHE Minister Leishangthem Susindro Meitei, while delivering his speech, said that the awareness campaign was organised to make people know the importance of water for our life. He added that the awareness would be fruitful only with the cooperation of the public.
Mentioning the water scarcity problem, he conveyed that awareness programmes would be organised in all districts and asked CSOs and other frontal organisations to render their support.
He informed that certain arrangements had been made by the State Government to address water scarcity problem by setting up filling points at different areas. Dredging activities had also been carried out to provide water to all intake points, he added.
Maintaining that the State Government is making earnest efforts to address the water problems, he appealed to the public to use water judiciously and plant trees to conserve the environment.
MLA of Thanlon AC Vungzagin Valte, Secretary (PHED) Namoijam Kheda Varta, Chief Engineer and officials of PHED also attended the programme among others. Culture programmes were also presented during the programme.