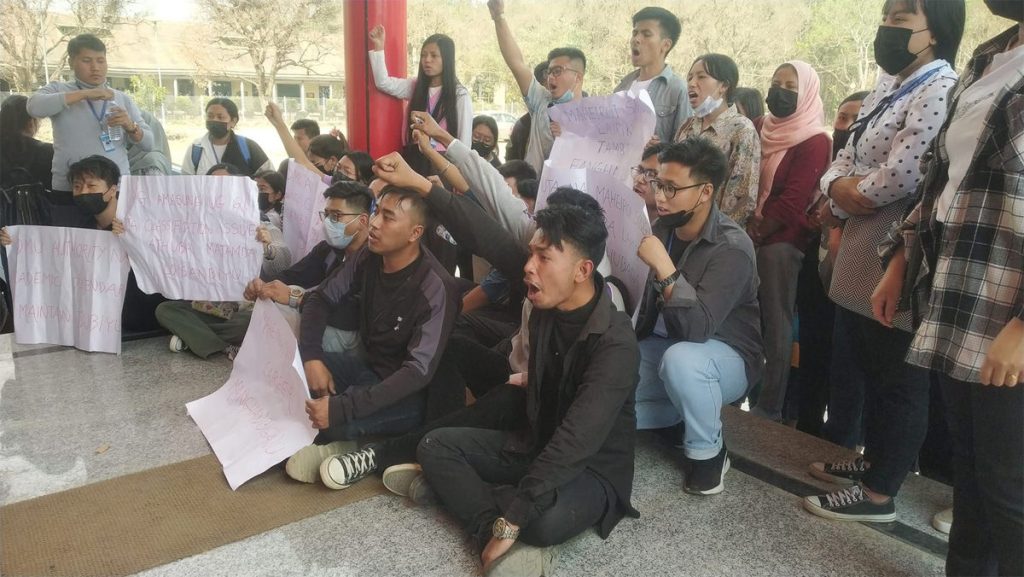 TMB Report
Imphal: Post-Graduate students of the Dhanamanjuri University on Monday stormed the Vice-Chancellor office of the university in protest against the failure to conduct PG classes for four months.
With placards reading "Maintain academic calendar properly", "Do not spoil students' careers", "Bring amicable solution to the issue of teachers' classification at the earliest", the irate students stormed the A-Block and tried to meet the Vice-Chancellor and Registrar of the university but the police personnel already deployed there restricted the students from entering, leading to a stand off. Police resorted to lathi charge to disperse the mob.
After the face off with the police, the students sat in-front of the A-Block and waited for the VC and Registrar to come out. Later, a brief meeting was held between the students, Vice-Chancellor and the Registrar.
While talking to reporters after meeting with VC and Registrar, General Secretary of DMU PG Students' Association Lourembam Poireiton Meitei said that the agitation was carried out against the non-maintenance of academic calendar by the authorities of the University and for not conducting PG classes till date.
He said that the matter was conveyed to the university authority in the past but no action has been taken so far.
He said that the Vice-Chancellor has assured to bring an amicable solution to the issue of teachers classification within Yaoshang festival. He warned to launch stringent agitations if the university authority fails to bring an amicable solution within the stipulated time.
Meanwhile, Dhanamanjuri University Vice-Chancellor N. Rajmuhon Singh has appealed to the teachers to continue the PG classes in the larger interest of the students.
In connection with the teachers' classification, the DM University Teachers' Association (DMUTA) has highlighted in the past, following which the university authority carried out a teachers' balance checking on how many of them want to teach in PG and UG, but maximum number of teachers want to teach PG. As such, there is less number of teachers in UG, and students have started demanding required teachers for the UG students again.
He further informed that the Directorate (U) has transferred around 60 teachers but they are yet to join the duty due to non-release order from the directorate.
He said that the DMUTA also informed the authorities that they will not take the PG classes until a solution of teacher classification is brought.
He appealed to the teachers to resume the PG classes at the earliest with adjustment amongst the previous teachers until the issue of teachers classification is brought up.