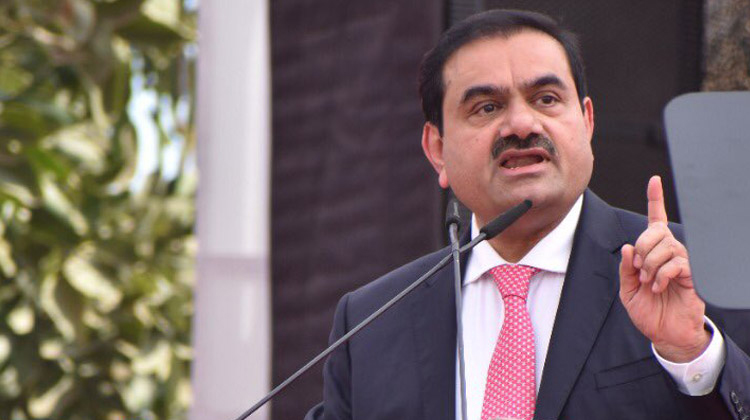 AGENCY
Gautam Adani was the world's third and Asia's richest man a month back but a damning report by a US firm triggered a massive sell-off in shares of his apples-to-airport group, plunging his own wealth by USD 80 billion and the tycoon slipping to No.30 on the world billionaire index.
Adani's sprawling conglomerate, which spans from sea ports to airports, edible oil and commodities, energy, cement and data centres, is under attack by US short-seller Hindenburg Research, which successfully deflated electric-vehicle maker Nikola Motors in 2020.
Hindenburg, which held short positions in unidentified shares of Adani Group firms through its US-traded debt and offshore derivatives, on January 24 accused the conglomerate of "brazen stock manipulation and accounting fraud" and using a number of offshore shell companies to inflate stock prices.
The group has denied allegations, calling them "malicious", "baseless" and a "calculated attack on India".
SELL-OFF: Since the Hindenburg report, the group's 10 listed companies have lost Rs 12.06 lakh crore, nearly equivalent to the market capitalisation of Tata Consultancy Services (TCS) – India's second most valuable company.
Adani Total Gas Ltd – the group's joint venture with France's TotalEnergies for retailing CNG, has lost 80.68 per cent of market value while Adani Green Energy, where the French firm has also invested, has seen 74.62 per cent loss.
Adani Transmission has lost 74.21 per cent in market value since January 24 while its flagship Adani Enterprises is down close to 62 per cent. Adani Power and Adani Wilmar as well as its cement units, media company NDTV and Adani Ports & SEZ too have lost market value.
Group's founder chairman Gautam Adani, 60, a first-generation entrepreneur, has lost USD 80.6 billion in wealth, which was primarily based on valuation of his holding in group companies.
He was worth USD 120 billion before Hindenburg report but now is ranked No.30 on the world billionaire index with about USD 40 billion networth.
Rival Mukesh Ambani, whom he had overtaken last year to become Asia's richest and the world's third most wealthy businessman, is now ranked No.10 with USD 81.7 billion wealth.
ENRON MOMENT? Former US treasury secretary and former Harvard University president Larry Summers recently likened the crisis in Adani Group to the accounting scandal that exposed US energy major Enron in 2001.
"We haven't talked about it on the show, but there's been a kind of possible Enron moment in India," he had said during Bloomberg's Wall Street Week. "And I imagine with India emerging as the world's largest country, and the (G20) meeting taking place in India, there's going to be a lot of curiosity from all present, about how that's gonna play through and what if any larger systemic implications that's gonna have for India".
The comparison was to Enron Corporation shares plummeting in 2001 following revelation that the company inflated revenues and hid trading losses.
ALLEGATIONS: Hindenburg claims Adani Group uses a number of shell companies to inflate stock prices and flout shareholding rules, which require at least 25 per cent of listed companies to be held by the public. It also flagged debt-driven growth and the group being "deeply overleveraged".
On January 27, Adani published a 413-page response, calling Hindenburg "the Madoffs of Manhattan", a reference to Ponzi schemer Bernard Madoff.
At the heart of Hindenburg's allegations is the question of whether Adani executives or family members had influence over entities that hold Adani company shares.
A Mauritius-incorporated company called Opal Investment Pvt Ltd, which holds a 4.69 per cent stake in Adani Power, was reportedly incorporated by Trustlink International Ltd – a financial-services company with ties to the Adani family.
One of Trustlink's directors sits on the board of Opal. In its January 27 response, Adani Group had stated that it has no control over what stocks Opal and other independent shareholders buy nor the source of their funds.
The opposition Congress party has used the Hindenburg report to cast Adani Group as an oligarch enabled by the Modi government. The government as well as the ruling party BJP has denied all allegations.
BROTHER CONNECTION: The Hindenburg report has brought to focus the role played by Gautam Adani's elder brother Vinod, 74, in managing the offshore entities. Vinod, who is said to work out of Dubai and is described as a Cypriot national, does not hold any managerial position in any listed Adani Group companies but he, according to Hindenburg, manages a vast labyrinth of entities in Mauritius, Cyprus and several Caribbean Islands which "regularly and surreptitiously transact with Adani."
In response, Adani Group has said Vinod Adani does not hold any managerial position in any listed entities or their subsidiaries and has no role in their day-to-day affairs.
Yet, Vinod Adani is said to have played key negotiator for Adani Group when it is raising funds from international markets. He and his wife Ranjanben were beneficial owners of the companies that bought shares in the open market following Adani Group's USD 10.5 billion acquisition of cement makers Ambuja Cements Ltd and ACC Ltd.
FPO: The Hindenburg report came just as Adani Enterprises opened a Rs 20,000 crore follow-on share sale – the second largest in India. Originally, the shares were offered at a discount to the market price but the report caused a deep sell-off, the shares fell below the offering price.
With foreign investors like Abu Dhabi-based International Holding Co. PJSC and domestic giant Life Insurance Corporation (LIC) subscribing to the shares, the FPO managed to close with full-subscription but the company cancelled the share sale and returned the money. This was possibly to avoid deep losses that investors like LIC would have suffered.
COMEBACK STRATEGY : Adani Group is plotting a comeback strategy focused on addressing investor concerns around debt, consolidating operations and fighting off allegations with help of a top-shelf US crisis communication and legal teams.
It has scrapped a Rs 7,000 crore coal plant purchase as well as shelved plans to bid for stake in power trader PTC to conserve expenses and repaid some debt.
It has brought in Kekst CNC as a global communications advisor and engaged American law firm Wachtell, Lipton, Rosen and Katz to fight back against Hindenburg's allegations.
The group has repaid USD 1.11 billion to release pledged shares in Adani Ports & Special Economic Zone Ltd, Adani Green Energy Ltd and Adani Transmission Ltd. It will prepay a USD 500 million bridge loan that was taken to finance purchase of Holcim Ltd cement assets.
Adani Ports has repaid Rs 1,500 crore to SBIO MF and Aditya Birla Sun Life Mutual Fund and will repay another Rs 1,000 crore in commercial papers due in March.
The group had a gross debt of Rs 2.26 lakh crore as of September 30, according to a stock exchange filing. Total cash and cash equivalents was Rs 31,646 crore. It faces a repayment obligation of Rs 17,166 crore between January 2023 and March 2024.