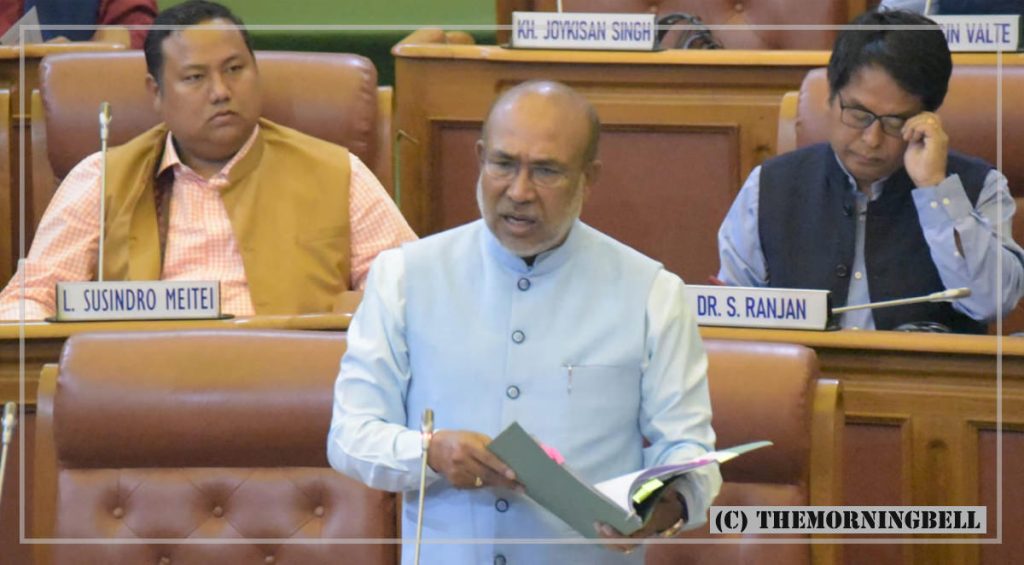 Imphal (DIPR): On the fifth day of the 2nd part of the ensuing 12th Manipur Legislative Assembly session on Saturday, the House unanimously passed seven demands for grants amounting to Rs 4258,53,49,000.
The demands for grants are (i) Demand No. 7: Police (ii) Demand No. 8: PWD (iii) Demand No. 24: Vigilance and Anti-Corruption (iv) Demand No. 31: Fire Protection and Control (v) Demand No. 32: Jails (vi) Demand No. 33: Home Guards and (vii) Demand No. 49: Economics and Statistics.
For demand No. 7: Police, a sum of Rs.2432,27,41,000 was passed, demand No. 8: PWD – Rs.1652,30,27,000, demand No. 24: Vigilance & Anti-Corruption – Rs.7,62,00,000, demand no 31: Fire Protection and Control – Rs. 32,21,69,000, Demand No. 32: Jails – Rs. 42,19,73,000, Demand No. 33: Home Guards – Rs. 58,51,89,000 and Demand No. 49: Economics and Statistics – Rs.33,40,50,000 have been granted and passed in the House for the Financial Year ending March 31, 2024.
During the discussion on demands for grants, MLAs K. Ranjit Singh, Th. Lokeshwar Singh and Surjakumar Okram moved cut motions on demands no 7, 8 and 31 which were later withdrawn and passed in the House. MLA Ram Muivah also joined in the demand discussion and expressed his observation on the demands.
Replying to a motion cut by the MLAs, Leader of the House Biren informed that the morale of the Manipur police has been greatly improved during the past five years. The relationship between police and the public has also significantly improved. Highway patrolling has been undertaken and border police outposts have been opened at several key locations. Most of the police personnels have started to take up regular morning physical exercises. Required equipment has also been provided, he added.
Regarding border pillar and border fencing, Biren clarified before the House that with the help of satellite mapping, maximum numbers of border disputes have been settled. Except for the construction work for border wall fencing for a stretch of about 350 metres near Kwatha village, the rest has all been settled, he added.
The Leader of the House further informed that small fire tenders have been procured for use in congested lanes and localities as part of the modernisation efforts under Fire Protection and Control. Foam and CO2 Fire Extinguishers have also been procured. Rs 93 crore project proposal has been submitted as a part of Fire Protection and Control modernization.
Regarding transfer and posting of police personnels, Biren stated that matters concerning transfer and posting can be amicably settled with the concerted efforts of all members of the House.
He also suggested minimising public pressures for a smooth implementation of transfer and posting matters. Upgradation of Manipur Police Training College will be taken up after approval from the Home Ministry which may take some time, he conveyed.
Regarding the War on Drugs campaign, the Leader of the House maintained that specialised teams have been constituted for effective implementation of the campaign covering poppy plantation and trafficking of illegal drugs.
Several drug manufacturing units have been busted in the State. Increase in unaccounted villages and illegal immigrants in the State is a major cause for mass cultivation of poppy in the state. Two investors involved in poppy cultivation have been arrested. Two drones- one for identifying poppy plantations and another for spraying of herbicides have been procured, he added.
Conveying that various alternative livelihood options for poppy cultivators have also been arranged, she said that alternative options should not be taken as a matter of right. He also stated that the government will not compromise on anything on the issue of the War on Drugs campaign.
Works Minister Govindas Konthoujam informed the House that the government has inked agreements with different funding agencies like Asian Development Bank, World Bank, JIKA and Asian Infrastructure Investment Bank for construction of new roads and other projects in the State.
The construction of Imphal-Kangchup Road is 78 percent completed and is targeted for completion by June 2023. Construction of Imphal Ring Road is planned to be started by March 2023 with funding from Asian Development Bank, he added.
Rigid pavements works of Imphal city roads will be started which will be later shifted to rural roads with funding from Asian Infrastructure Investment Bank. Minister Govindas also clarified before the House that the Estimated Sanction for the works program for the year 2022-23 has already been provided.
Regarding the engagement of local contractors, he said that the government has intimated to the concerned authority for awarding works to local contractors on priority and that their response is still pending.
He also informed the House that the 5 lakh deposit for Special Class Contractors of the State is deposited in the State treasury as revenue. Work orders for renovation of official quarters of MLAs will be issued soon, he added.
Later, Leader of the House Biren introduced three bills i.e. (i) The Manipur Properties and Open Places (Prevention of Defacement and Disfigurement) Bill, 2023 (Bill No. 1 of 2023); The Kaina Temple Board Bill, 2023 (Bill No. 4 of 2023) and The Manipur Value Added Tax (Third Amendment ) Bill, 2023 (Bill No. 5 of 2023).
Ministers Th.Basanta Kumar Singh and Y.Khemchand also introduced "The Dhanamanjuri University (Amendment) Bill, 2023 (Bill No. 6 of 2023) and "The Manipur Town and Country Planning (Fifth Amendment) Bill, 2023 (Bill No. 7 of 2023) respectively.