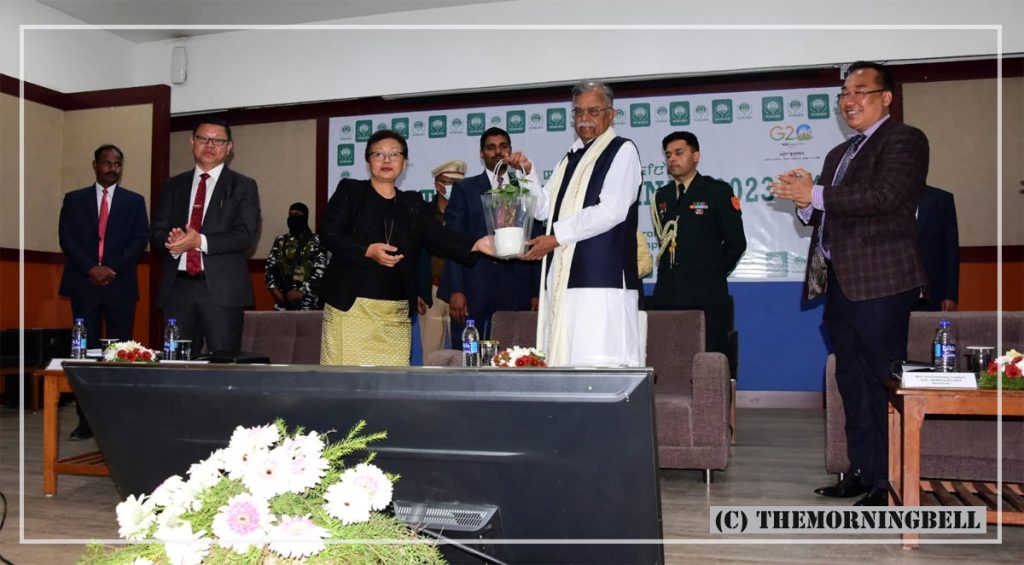 TMB Report
Imphal: Governor La. Ganesan has said that implementation of credit plan and developmental programmes based on the State Focus Paper 2023-24 potential estimates will encourage national financial inclusion programme and bring about development in the State. He was speaking at Manipur State Credit Seminar 2023-24, held at Hotel Imphal on Thursday.
Launching the State Focus paper 2023-24, the Governor said that it is a matter of great satisfaction to note that the paper projects the Annual State Credit Potential of Rs.2,599.03 crore under priority sector. The National Bank for Agriculture and Rural Development (NABARD) has been preparing a potential credit plan for all the 16 districts of the State every year.
The Governor continued that since its inception on December 30, 1981, NABARD has been providing credit and other facilities for the promotion of agriculture, micro, small and medium enterprises, cottage and village industries, handloom and handicrafts and other allied activities in rural areas with a view to promote integrated rural development and security prosperity.
Citing the importance of green and renewable energy, La. Ganesan said that the Centre has a long term goal of reaching net zero carbon emission by 2070. In addition, empowerment of women and the hitherto non-bankable group of people through banking linkages by forming into formal groups like Self-Help Groups, etc. not only accelerate the growth momentum but also leads to equitable sustainable development, he added.
He said that priority sector landing and financial inclusion are the important priorities of the Government with an objective to extend financial services to people to unlock its growth potential with the motto from Jandhan to Jansuraksha.
The Governor appealed to the banks and other financial institutions who are allotted targets for opening of branches at the identified locations to put necessary efforts for early opening of branches in all these locations.
Additional Chief Secretary P. Vaiphei also spoke on various potentials of agriculture and horticultural development in the State. He said that the Centre is introducing new initiatives for re-introduction of natural farming processes and organic farming.
Tongkhopao Lhungdim, DGM, RBI, Imphal and Hepuni Bismarck, Convenor, SLBC, Imphal also spoke in the seminar. Bankers who are taking the lead in enrolling and implementation of various financial inclusion programmes were also felicitated in the seminar.