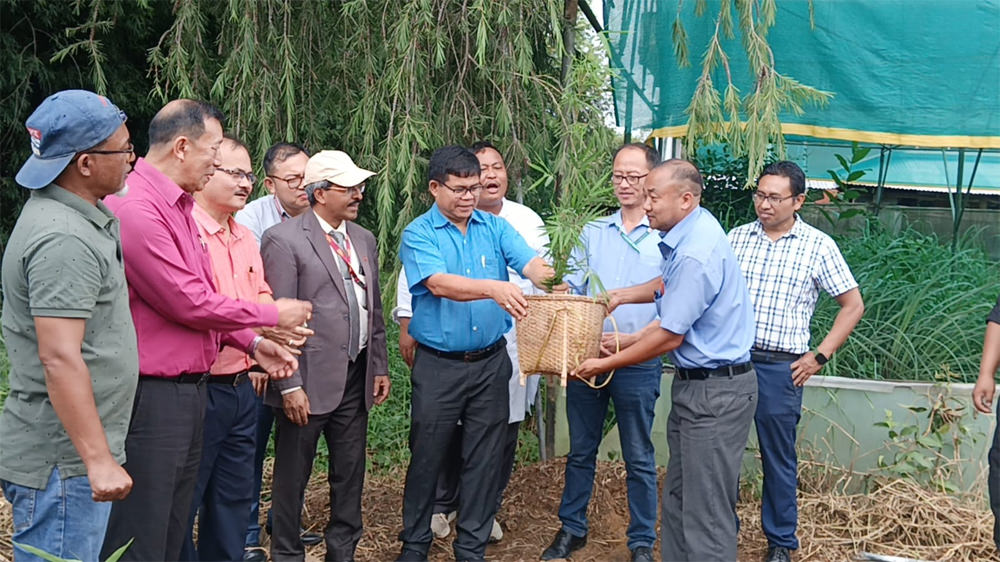 TMB Report
Imphal: CSIR-NEIST and Indian National Trust on Arts and Cultural Heritage (INTACH), Manipur Branch jointly observed World Bamboo Day under the theme "Bamboo, Our Natural Heritage for Sustainable Future" at CSIR-NEIST Laboratory Branch at Lamphelpat.
Prof. Dr. H. Birkumar Singh, Chief Scientist, CSIR-NEIST, Manipur, Government of India; Prof. Ng. Iboyaima Singh, Dean, College of Food Technology, Central Agricultural University (CAU); Manasij Chakrabarti, AGM, Punjab National Bank, Imphal Branch; Dr. S. Manikanta Singh, Former Addl. Director, Manipur Health Services; Dr. RK Chingkhei, Faculty, Department of Forest and Environment, Manipur University and Dr. Homen Thanjam, Convenor, INTACH- Manipur Chapter were present as Chief Guest, Guests of Honour and President respectively.
The programme commenced with plantation of bamboo in the campus of CSIR-NEIST. Dr. Atom Sunil Singh, Director, Apunba Imagi Machasing (AIMS), Manipur proposed the welcome address during the World Bamboo Day.
Prof. Dr. H. Birkumar Singh said that Manipur is well known as for the biodiversity hotspot, however, the tag of biodiversity hotspot is not permanent. In order to conserve the biodiversity hotspot, bamboo is really important.
The formation of soil in Northeast India is younger than western part of Himalayan ranges. So, there is frequent landslide. Bamboo took major role as soil binder. Saneibi, a variety of bamboo found in Manipur can be replaced steel used for construction of building. Bamboo can generate huge revenue by selling as a bamboo itself, crafts or as a bamboo food product, he said.
Prof. Ng. Iboyaima Singh talked about the used of Bamboo as toothbrush, bamboo charcoal, food products, saying use of bamboo products makes us healthy and good for environment.
Bamboo contented rich in nutrient, less in fat and content more fibre. It is best food in the present era. At present, there are 56 species of bamboo in Manipur. There are many innovative products produce so far which are about to release in the market with help of the Apunba Imagi Machasing (AIMS). It includes bamboo power as organic fertilizer, bamboo leaf tea, etc, he added.
He also appreciated plantation initiated by AIMS to increase the bamboo products. We need to increase bamboo plantation because demand is more than bamboo production.
Manasij Chakrabarti was very pleased to a part of the observation of the world bamboo day.
Dr. S. Manikanta Singh said that bamboo is a part and partial of our life as it is closely related to the tradition and religion of our society.
He said that Bamboo made many important tools traditionally including scientific measuring scale such as sangbai, meruk etc. However, the production of bamboo is decreasing. Asia is the largest bamboo producing continent in the world consisting about 80 pc. Among them, Northeast India is one of the major areas for bamboo production. Regarding the environmental degradation made by poppy plantation, Bamboo can be an alternative to poppy to conserve the environment and revenue generation, he said.
Dr. RK Chingkhei said that bamboo is not a plant but it is a grass which grows faster than the any other plants. He said that bamboo is taking a major role for livelihood and sustainability as it can control the soil erosion.
He said that bamboo also has many utilities such as bamboo as medicine, musical instruments and tools. Dr. Homen Thanjam illustrated about the role of INTACH. He also elaborated on how bamboo is taking a significant role to preserve the natural heritage of Manipur.