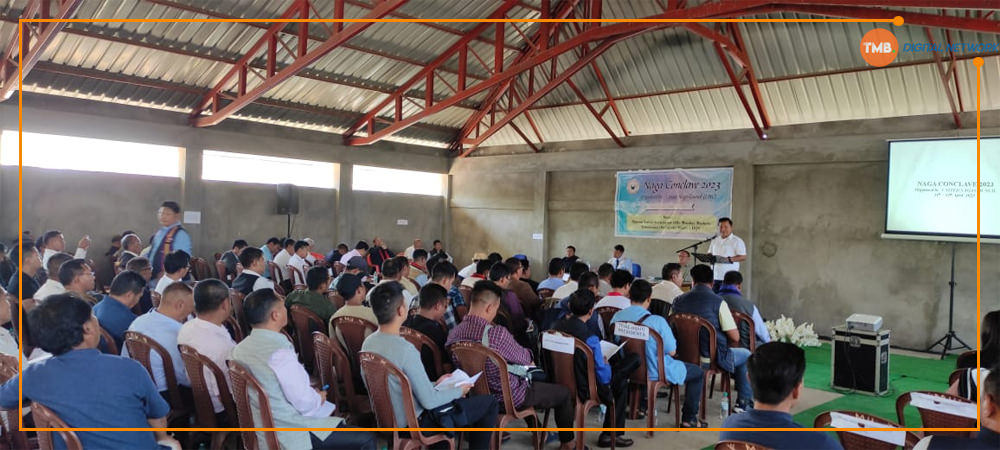 TMB Report
Imphal: A two-day long Naga Conclave, 2023 organised by the United Naga Council (UNC) concluded on Wednesday at Maram Union Secretariat, Old Monday Market in Senapati.
UNC President Ng. Lorho gave the keynote address at the beginning of the session, stating that the conclave was organised as per a resolution passed during the Naga People's Convention held in the later part of March.
Revisiting the 3rd Naga People's Convention, 2010 declaration/Alternative Arrangement, a powerpoint presentation on "NPC Declaration, 2010 & Alternative Arrangement" was presented by UNC ex-President L. Adani while Naga Hoho Vice-President Samson Remei gave a powerpoint presentation on "District Creation & Mushrooming of Organisations" during the first session of the conclave.
The second session began under the theme, "Understanding our Neighbours" wherein UNC ex-President G. Gaingam gave a powerpoint presentation on "Indigenous Issues" while UNC Advisor and former President presented a powerpoint presentation on "NRC/Population Commission".
The second day continued with paper presentation on "Tribals and Issue of Land & Forest Rights in Manipur" by K. Timothy Zimik, IRS, Chief Commissioner of Income Tax (Retired), Ministry of Finance (Revenue), Govt of India while High Court of Manipur Advocate Daniel Ramsan gave a powerpoint presentation on "Article 371-C/ADC/Village Authorities in Hill Areas Act, 1956 & ST Demand."
The second session of the second day continued with a paper presentation on "Procrastination of Delimitation in Manipur and its Impact" by Home Raikhan, IRS (Retired) and "Reflection on Election" by the UNC President followed by a discussion session in the later part of the programme.
Braining storming sessions of the conclave concluded with seven different resource persons on different topics.
Leaders from 20 different Naga tribes, intellectuals, parliamentarians, ex-parliamentarians and other Naga leaders took part in the conclave.