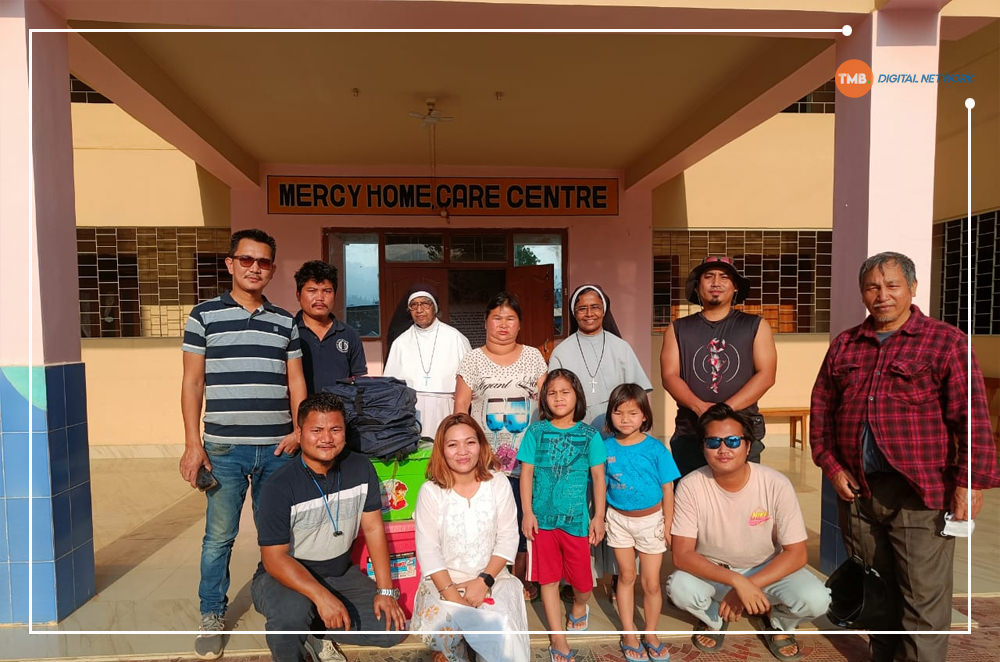 TMB Correspondent
Churachandpur: First half of the year draws near, yet a 6-year-old Nemnuntheng is still playing in her house yard with her 5-year-old sister Lhingneivah, without an inkling of where their agemate would have been around this time, studying and writing in a classroom. For her, attending school is a far-fetched dream as the only bread winner of the family – her mom Kimneinieng, is not in a condition to send her wards for schooling.
Kimneinieng hails from Loikhai Village, Henglep Sub-Division in Churachandpur district. She is suffering from severe Goitre, a case that causes difficulty in breathing, swallowing problems and fatigue. She is survived by two sons and two daughters. In 2022, She was admitted to Churachandpur District Hospital as she was suffering from severe maternal sepsis.
The family sustains on selling forest products that fetch them a small amount of money which in turn is insufficient to feed the family. The meagre amount of their income does not afford their children to be sent to school. A few years ago, when Kimneinieng was hospitalised at Churachandpur District Hospital, the family did not even have food to eat. The husband, who was also suffering from severe liver problems, had to attend his wife at the hospital. Unfortunately, he soon died while his wife was hospitalised at the healthcare centre.
After the death of her husband, Kimneineng and her children came down from their native village Loikhai and settled down in the town area of Churachandpur, at M. Songgel village. But she barely makes ends meet, living at the mercy of her neighbours. She sells vegetables house to house, thereby knocking every door of the locality in the morning while carrying her youngest son on her back.
She used to walk long distances with hardship everyday, thus struggling to earn for the next meal. In such a situation, sending her children to school is next to impossible, a far cry for her. Meanwhile, her wards have been persistently praying to their mother for sending them to school.
Out of extreme poverty, her eldest son Paogoumang, though 15 years of age, has to help his mother in earning their daily bread. He works in a local shop as an assistant, earning him Rs. 3000 per month, which is not sufficient enough to feed a family member of five. He too has the yearning for education and expresses his desire to go to schools like many of his friends.
When this correspondent met them at their tiny house at M. Songgel village, visibly dejected Kimneinieng narrated all the hardships and poverty that her family has undergone, due to which her children are devoid of getting basic necessary education.
On learning the pitiable condition of the family and the children who wish to attend school, members of the Kuki Students' Organisation (KSO), Churachandpur, took the initiative and found ways to send them to school.
Though the Constitution of India provides free and compulsory education to all children in the age group of 6 to 14 years od age, Kimneinieng herself is unaware of the provision as herself is uneducated and she has no option rather than confining their wards at home, said one of the members of KSO. As such, the KSO member added, that they are now making an all out effort to send them to school, in line with the KSO motto- 'Learn, Unite & Serve.'
Taking responsiblity for the welfare of students, the KSO Churachandpur contacted 'Mercy Home,' an institution run by the Catholic community for the orphans and helpless children, located at Cannan Veng, Tuibong, and sought the availability of seats for the two young kids. With the efforts of KSO Churachandpur, the two young kids were now admitted to the Home on April 10 wherein they will be doing their schooling at St. Mary High School, Tuibong.
This was possible with the compassionate consideration of Mercy Home, St. Mary High School and all donors who donated in cash and kind for the two young kids to get their much deserved basic education, said Lamkholhing Haokip, a member of KSO Churachandpur. She also vowed to act as a guardian for them in the future, if their basic need arises. The two kids were also visibly excited after learning that they will be going to school like many of her friends, after a long time.
However, the eldest one, Paogoumang Haokip's condition is still left in a lurch, whether he will be able to receive education like his two younger sisters. As of now, the KSO Churachandpur is still looking for sponsorship who will be willing a Samaritan approach to help the needy and helpless kid, whose only dream is going to school.