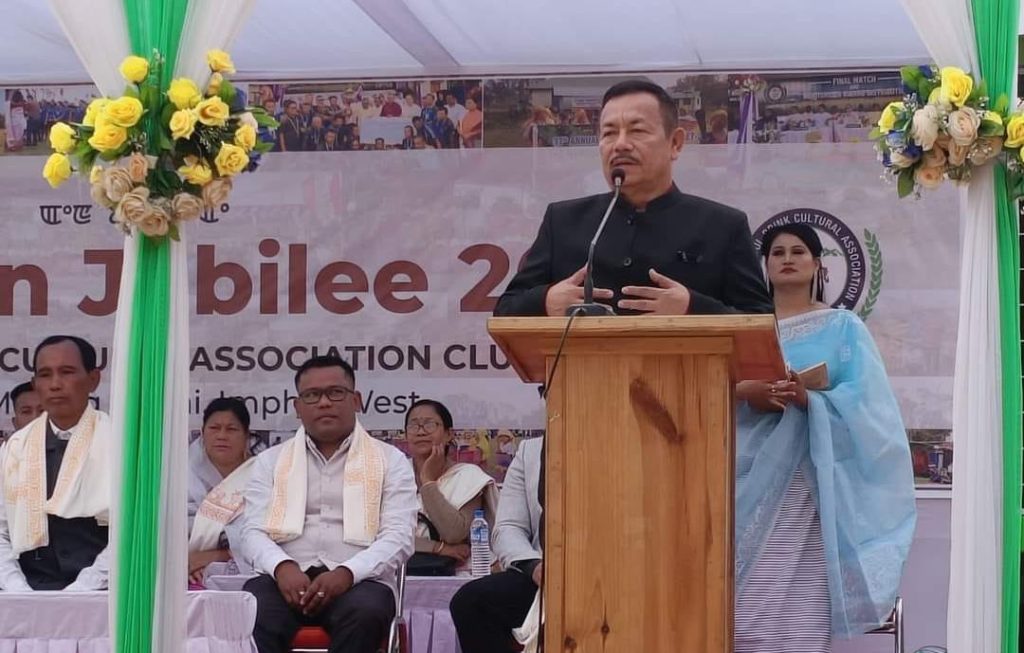 TMB Report
Imphal: Patsoi AC MLA Sapam Kunjakeshore (Keba) said that he will never play politics in development issues.
Speaking as Chief Guest at the golden jubilee celebration of The Nambul Brink Cultural Association, Takyel Khongbal Maning Leikai on Thursday, MLA S Kunjakeshore said that works of a club is the mirror of the people and that the development work taken up by a club is for the people of the locality.
Just taking up development works near election cannot trap the people anymore, he maintained.
Appealing to the people to support the development work taken up by the government, he observed that the work taken up in Takyel Khongbal should be set as an example of development.
He appealed to the people to work together for a Green Takyel Khongbal and a drug free locality, apart from keeping Nambul River neat and clean.
He said that the people residing on the river bank have a pivotal role in keeping the river safe. If the people fail to take up necessary actions to save Nambul River, Loktak Lake will also get extinct in future.
The golden jubilee celebration was attended by people of the locality and eminent personalities. The flag of the association was also hoisted as a part of the observation. Sports persons and other eminent persons in the locality were also felicitated.
The programme was also attended by Wangkhem Iboyaima Meitei, President (NBCA); S. Memcha Devi WARD Member IV ; Dr. S. Merajao Meitei Chairman, Paree Imom Sindam Sang, Langjing Former Up-Adhyaksha, Imphal West Dist. ZP; Loitongbam Polen Meitei Social Worker; Khumallambam Ibecha Devi President of The Pungsumbam Leikai Women's Welfare Assn. Takyel Khongbal, Imphal West; Keisham Birbal Singh Proprietor, KBS Brick Plant; Nongmeikapam Hemchand Proprietor, M/s Jilla & Sons Brick Field; Dr. Konthoujam Kosana Meitei Former HOD Sports Sciences Sports Authority of India Guest Faculty, National Sports University (NSU); Sanjenbam Memcha Chanu Principal, Paree Imom Sindam Sang, Langjing; Dr. Sanjenbam Yaiphaba Meitei Professor, Manipur University Dept. of Anthropology; Chongtham Khelchandra Meitei CEO, Meitei Leikol and Nongthongbam Arnold Meitei Manager of M/S Jilla & Sons Brick Field.