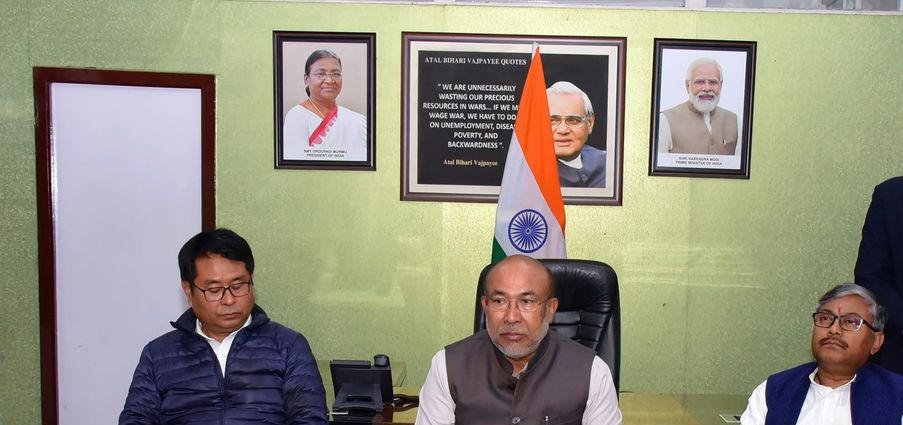 Imphal (DIPR): Chief Minister N. Biren Singh has lauded the Union Budget 2023 and said it is the first General Budget of India's Amrit Kaal.
Briefing media at his official bungalow on Friday evening, the Chief Minister congratulated Union Finance Minister Nirmala Sitharaman who under the guidance of Prime Minister Narendra Modi tabled the visionary and pro-poor budget.
He said that the budget is for public welfare, and will uplift lives of villagers, rural folks, tribals, farmers, backward classes, differently abled and those economically backward.
This budget will promote social justice, equality and provide equal opportunities to all sections of society, he said, adding that it will make India a "Super power."
The budget, he continued, emphasizes on education of children, earning of the middle class and welfare of the elderly.
The Chief Minister further stressed that the budget carries the economic agenda of facilitating opportunities for citizens, providing strong impetus to growth and job creation and strengthening macroeconomic stability.
The seven priorities of the Budget 2023 are Inclusive Development, Reaching last mile, Infrastructure and investment, Unleashing potential, Green Growth, Youth Power and Financial Sector, he said, adding that this Budget has shown a blueprint for laying strong foundation for India's economic development for next 50 years.
The budget has highlighted the ending of an old Tax Regime and beginning of a new tax regime, he said, stating that tax slabs have been reduced to 5 and that now no income tax is payable upto Rs. 7 lakh a year which was so far Rs 5 lakh.
The budget has also stressed on seriousness and commitment of the government to the development of the tribal communities, he said adding that the PM's Particularly Vulnerable Tribal Groups (PVTG) Development Mission has been launched and Rs. 15000 crore has been given for this Mission.
The Chief Minister also welcomed the step to establish National Digital Library for youth and children.
In next three years the Central Government will appoint 38,800 teachers and support staff in 740 Eklavya Model Residential Schools, he added.
Highlighting the government's focus on development of dairy, animal husbandry and fisheries sectors, the Budget has increased the Target of providing agriculture credit to Rs. 20 lakh crores and to promote agri start-ups an 'Agriculture Accelerator Fund' being set up.
The Chief Minister added in next three years one crore farmers will be helped to adopt natural farming and 10,000 bio input resource centres will be set for this.
The Chief Minister also said that the Pradhan Mantri Kaushal Vikas Yojana (PMKVY) 4.0 will be launched to skill lakhs of youths and will have new age courses like coding, artificial intelligence, robotics, mechatronics, IOT, drones.
30 Skill India International Centres will be set up to skill youth for international opportunities, he said.
The Chief Minister further welcomed the announcement of 'National Data Governance Policy' and said it will promote research and innovations in start-ups and educational institutions.
Another major focus of the Budget is the 'Mahila Samman Bachat Patra', a new Small Savings Scheme, launched to commemorate 'Azadi Ka Amrit Mahotsav', the Chief Minister said, adding that it will provide fixed interest of 7.5 pc per annum for 2 years for deposit upto Rs. 2 lakhs in the name of women or girls.
The Chief Minister also highlighted that limit of keeping money savings accounts for senior citizens has been increased from Rs. 4.5 lakh to Rs. 9 lakh.
Another major focus of this budget is 'Green Growth', he said, adding that the Modi-Government has allocated Rs. 19,700 crore for the National Hydrogen Mission with a target to produce 50 lakh tonnes of green hydrogen by 2030 and Rs. 35,000 crore fund has been provided for energy transition to 'green' energy.
The Chief Minister added 100 laboratories to be set up in engineering institutes – to develop apps that run on 5G mobile services and this will create new opportunities, jobs, investments
This budget allocated Rs. 2.40 lakh crore for development and modernisation of India Railways which is nine times more than 2014.
Biren also stressed that Capital investment has been increased by 33 percent to Rs. 10 lakh crore and that this will boost infrastructure development across the country.
Under the budget, he said, the 50-year Interest free loans given to States for capital expenditure has been extended by another year.
Allocation for PM Awas Yojana has increased by 66 pc to Rs. 79,000 crore, the Chief Minister said, adding that it shows sensitivity of the PM to the needs of the poor and needy.
Despite COVID Pandemic and war in Europe, the budget size has increased to Rs. 45 lakh crores, reflecting the fast-growing economy of the country's economy, he said.
The Chief Minister also highlighted that under the Budget, 157 new nursing colleges will be established in 157 medical colleges established since 2014.
A mission to eliminate sickle cell anemia by 2047 will be launched, he continued, adding that 50 new airports, helipads and advance landing grounds will be set up to enhance regional connectivity.
For Urban Development an Urban Infrastructure Development Fund (UIDF) is being set up with provision of Rs. 10,000 crore per annum, he said, adding that the MSMEs will be given an additional Rs. 9,000 crore of credit guarantee which will allow MSMEs to avail upto Rs. 2 lakh crores of extra collateral-free credit, the Chief Minister added.
The Chief Minister concluded by saying that this Budget envisages India's growth and development 100 years post-independence and provides a roadmap for growth, development and progress for all sections of society.
The Indian Economy is on the right track and moving towards bright future, he said once more thanking the Hon'ble PM and FM for this public and social welfare-oriented Budget.
The press briefing was also attended by Minister Konthoujam Govindas Singh and Minister Dr. Sapam Ranjan Singh.