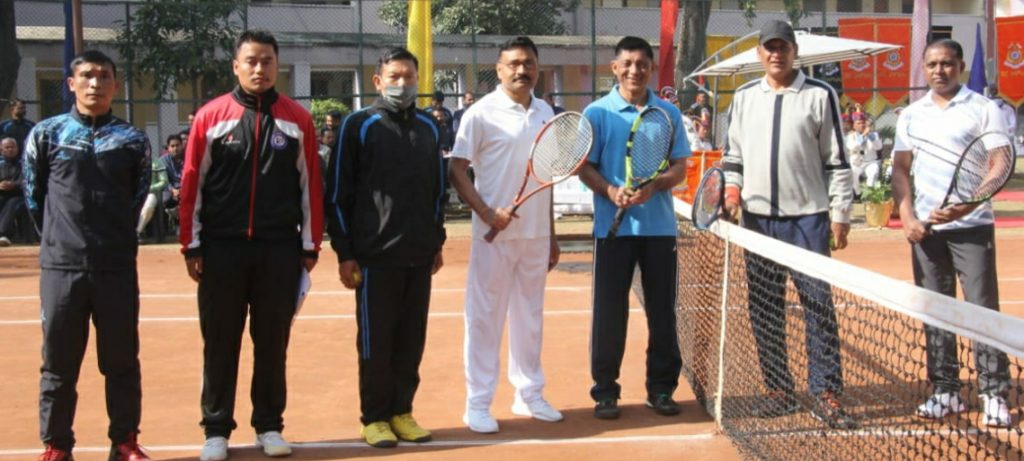 TMB Report
Imphal: In view of policy of encouraging sports by CRPF in its area of deployment GC CRPF Imphal, a Manipur and Nagaland (Ops) Sector Lawn Tennis Tournament 2020 is being organized from Saturday at Group Centre, Central Reserve Police Force, Langing Imphal (Manipur) till December 21.
The opening ceremony was attended by Randeep Datta (PMG) IGP, M&N Sector as the Chief Guest where in all Officers, Subordinate Officers and Jawans were also present.
The Chief Guest of the function congratulated the winner team of the day and all the participating teams of the tournament. He emphasized all Officers, Subordinate Officers and Jawans to participate in such sports activities on large number to keep them physically and mentally fit and also to bring laurel to this great force at National and International level.
Social distancing was also maintained by all the officers, Subordinate Officers and during the match to avoid the Covid- 19 pandemic.
In the opening match, the pair of R.S Rautela, DIGP, Range Imphal and D.C. Day, DIGP (Ops) Kohima M & N Sector Hqr defeated the duo of Randeep Datta (PMG) TGP, M & N Sector Ravi Kiran, A/C, B-02 Sig Bn.
In another match of the day, the duo of Lamkhokan Lhoujem, Commandant 143 Bn. and Simon Mao A.S, Dy. Commadant beat the pair lrungbam Lokendra Singh, DIGP and H. Premjit Comdt. 87 Bn.