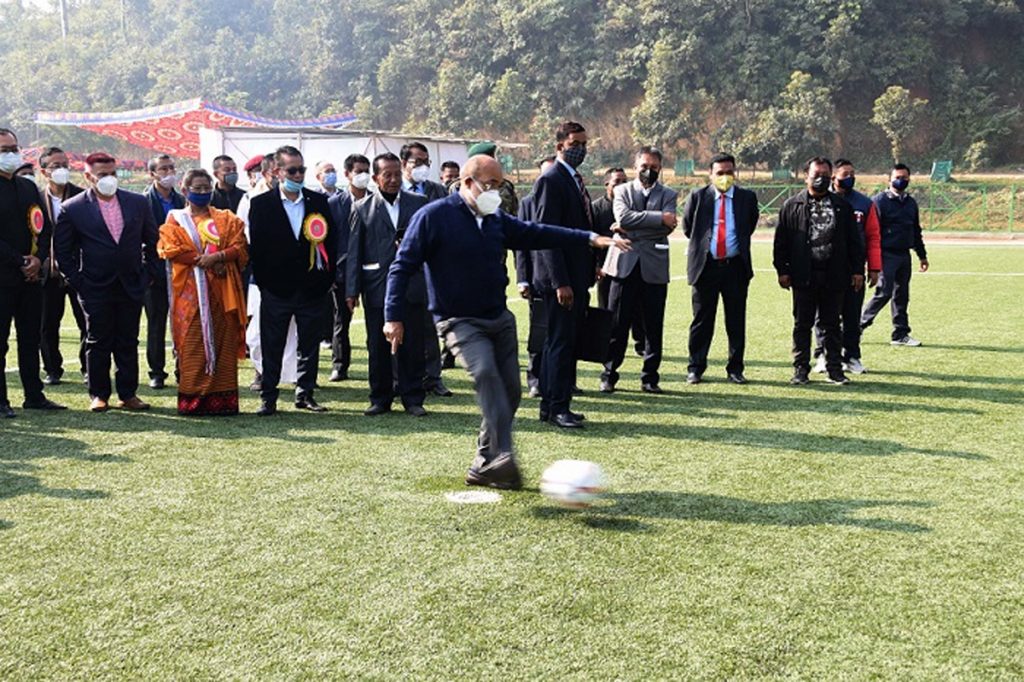 TMB Report
Imphal: Chief Minister N. Biren has inaugurated another Artificial Football Turf at Langjing Achouba, Imphal West next to Khuman Lampak Artificial Turf and also handed over to Youth Affairs and Sports, Government of Manipur on Sunday.
In the inauguration function, N. Biren, Chief Minister, Govt. of Manipur; Letpao Haokip, Minister YAS and Water Resources; S. Rajen, Minister Education, Fisheries and CADA; Akoijam Mirabai, MLA Patsoi A/C; R.K. Imo, MLA Sagolband A/C and L. Rameshwor, MLA Keirao A/C were present as chief guest, president and guests of honour respectively.
In his chief guest speech, N. Biren said that it is the second Artificial Turf ground in the State next to Khuman Lampak Astro Turf at RAU Ground. The Government would try to construct a gallery and changing room for the football turf which inaugurated at Langjing Achouba. Sports and games is one of the ways to make youths of the State healthy and well disciplined. It will be beneficial to the football players who can play in the rainy, winter and summer season. If we provide a proper playground to our talented youths to play games and sports, it would be much helpful in making our society free from drug addiction and should preserve the playground for the next generation.
He further stated that my government is considering the development of sports in the rural and urban areas, and trying to give some grants to local sport clubs to ease a little of the financial constraint they faced to maintain the clubs. And the government has given out cash incentives of Rs. 50 lakhs each to NEROCA FC and TRAU FC who are the two teams participating in the Hero I-League 2021 from the State. Meanwhile, the Government is planning to hand over a cash incentive of same amount to KRYPHSA FC, the lone Women Hero I-League team in the State.
N. Biren further said that the State Government had identified some places in 16 districts of the state to construct hockey grounds. The government wanted to revive the oldest playground in the world for Polo (Sagol Kangjei) at Mapal Kangjeibung. He announced that Ng. Bala and O. Bembem are promoted to Inspector rank in Manipur Police. Bala is the first ever women footballer in India to score a goal in European Women Football League representing Rangers FC of Scottish, he added.
President of the function, Latpao Haokip spoke that the State Government had made a proposal to the Sports Ministry, Government of India for construction of Mini Stadiums in 32 Sub-Divisions of the State. Among these 32, four each at valley and hilly areas had been selected and foundation stones would be laid soon first and remaining others also will do, he added.
He also stated that lets keep well health, education and sports to shine in our society. A proper playground is necessary in every village to garner the talent of our youths and urged the people of the State to maintain sanctity of sports and not to bring in politics in the sector. And we can stop to separate from one unique and let's walk together to get our goal, he assumed.
Minister, S. Rajen said that health, sports and education are the sectors which are keys to the development of a society and stressed on the needs for development of proper playgrounds in every part of the State.
The football turf was constructed by the Water Resources Department with a cost of Rupees 11.14 crores, started in 2017-18.
Dr. Rajesh Kumar, Chief Secretary; Vumlunmang Vualnam, Principal Secretary; Kh. Raghumani, Commissioner; Secretary to Chief Minister Ningthoujam Geoffrey; Officials of Youth Affairs and Sports Department; and Water Resources Department and other sports persons also attended the function.